Transfer news: Willian says Chelsea were always his first choice
Willian was aware of interest from elsewhere over the summer, but claims his 'heart was already at Chelsea'.
Last Updated: 30/11/13 11:49am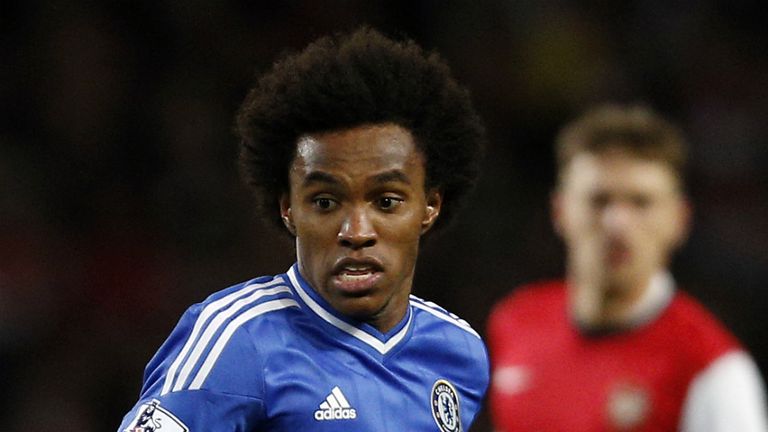 Liverpool and Tottenham Hotspur were among a clutch of Premier League clubs to shoot admiring glances in the direction of the Brazilian playmaker as he prepared to leave Anzhi Makhachkala.
It was, however, to be Chelsea who secured the 25-year-old's signature.
The Blues had been trailing him for some time and it was that desire to get a deal done, coupled with Jose Mourinho's return to Stamford Bridge, that convinced Willian that west London was the ideal destination for him.
He told The Sun: "Two years ago, Chelsea made an offer for me when I was with Shakhtar Donetsk. They didn't want to sell me but it made me more interested in Chelsea.
"I feel really happy that the supporters take the time and the trouble to write about me. It's a privilege to hear them clapping and singing about me.
"Never once did I say I was going to sign for Tottenham or Liverpool or for anyone else in the summer.
"There were negotiations going on with other clubs, as well as Chelsea, that my people were having.
"Chelsea were interested in me and when they made an offer this time I didn't think twice. My heart was already at Chelsea.
"I had been following their games even more closely after their first offer.
"I didn't sign a contract for Tottenham or have a medical. During the negotiations there was talk about a medical but it never happened. I made absolutely the right decision to come to Chelsea.
"The most important thing for me is to be happy, it's making my dream come true.
"I wished so much to play here and work with Jose Mourinho, who is one of the best managers in the world. Everywhere he has been he has won titles. Everyone likes to work with a winner."