Premier League: Jose Mourinho says Chelsea caught Southampton by surprise
Jose Mourinho believes Southampton were not expecting Chelsea to deliver such a strong second-half display on Sunday.
Last Updated: 02/12/13 7:15am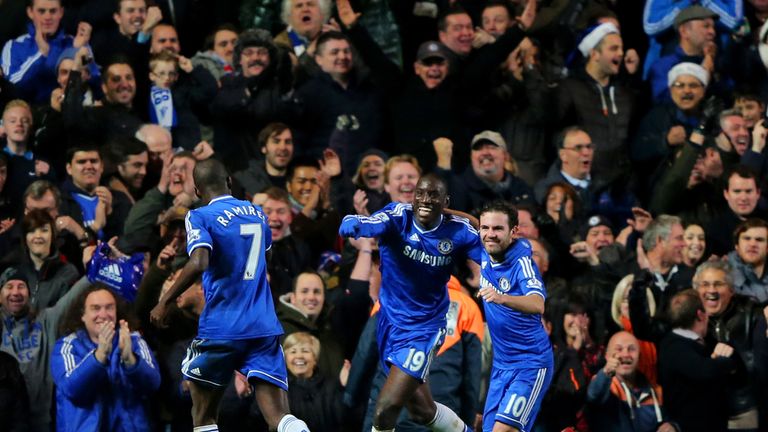 The Blues boss extended his unbeaten Premier League home record to 67 games as his side recovered from conceding a goal after just 13 seconds to win 3-1 at Stamford Bridge.
Jay Rodriguez gave Saints the early advantage after a bad mistake by Michael Essien and having reached half-time with their clean sheet intact, the visitors were expected to frustrate their hosts still further.
But Gary Cahill brought the scoreline level on 55 minutes and after Saints goalkeeper Artur Boruc had to go off injured, there were further goals for John Terry and Demba Ba as Chelsea moved back to within four points of leaders Arsenal.
Mourinho says he was confident his players could turn the game around.
"It was the worst possible start but I think we had the quality to keep balanced and wait for the second half to risk and to try to score a goal," he told Sky Sports.
"We did not lose our balance. We kept calm, even when Oscar had to come out (just before half-time). I played Lampard, not Demba.
"We knew that in the second half we could change things and I think the second-half performance was very good. We showed emotion and heart, and quality too.
"I think we gave Southampton something in the second half they were not expecting and they couldn't cope with it."
When asked what he said to his players at half-time, Mourinho responded: "I told them it's easy to play when you're winning, but now we have to show character.
"But we knew what to do. Mata was like a fake winger, playing inside all the time - and that gave them problems. Ramires and Lampard pressed them high, and it was a deserved result."
In his post-match press conference, Mourinho attempted to play down Chelsea's title ambitions, merely suggesting it was important his team were in contention after being out of it at this stage of the season in recent campaigns.
"They must feel the responsibility to play for Chelsea," Mourinho added.
"Feeling that Chelsea cannot be in December - like it happened in a few seasons - completely out of the title race.
"I can't establish targets. I can't say 'now I want to win five consecutive matches, now I want to be top of the league'.
"One of the things these boys have to learn is to cope with the responsibility of being there. We cannot be 15 points behind by December, we have to be there."
Next Chelsea face Sunderland, Stoke and Crystal Palace in three Premier League games before the December 23 contest at Arsenal.
Mourinho is not ready to look ahead to the trip to the Emirates Stadium.
"Now we have two matches away, after that we play Crystal Palace at home," he added.
"We are playing against three teams, they need points, because of the position they have, so we are going to have very difficult matches."
Essien, on his first Premier League start since May 2012, gave away the ball for Rodriguez's goal and was off the pace in a first half where he was booked for diving.
Mourinho replaced the Ghana midfielder at half-time, insisting he did so only to safeguard against a potential dismissal.
"Everybody makes a mistake," Mourinho added.
"Strikers they miss goals, goalkeepers they make mistakes, midfield players, they lose balls, especially when they try to play. And he tried to play. It was a back pass and they scored the goal.
"He had a very normal performance. He played a part in the stability the team had in the first half, but one yellow card for 45 minutes is a long time.
"I had to take one off and it was a very normal decision. Essien is Essien, he's my man, he's a Chelsea man and no problem, because other guys they make mistakes."