Transfer news: Thibaut Courtois set to hold talks with Chelsea
Thibaut Courtois is set to hold talks with Chelsea and he wants his future resolving before the World Cup finals.
By Kristof Terreur
Last Updated: 04/12/13 12:01pm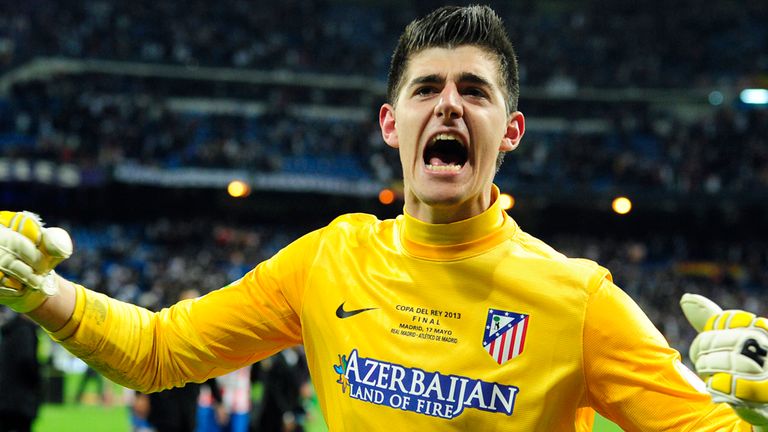 The 21-year-old is currently in his third-year on loan at Atletico Madrid, where he has emerged as one of the best young goalkeepers in world football.
Chelsea signed him from Genk in 2011 on a five-year deal and despite not playing a game for the Premier League giants - they want him to extend his contract with them.
But with the likes of Barcelona and Real Madrid reported to be keen on securing his services, Courtois wants to resolve his future plans with Chelsea - who have Petr Cech as their current number one.
"I don't know where I will be playing next season," he told Belgian TV station Sporza.
"In a short time, I will discuss my future with Chelsea and I want to know their plans. After those discussions, I will decide what will be the best option for me.
"I don't want to wait too long, it's not good to begin a World Cup while you're thinking about transfers. I don't want to wait until May or June.
"I'm not worried at his moment and I hope I wont be worried at all the next months."
Award winning
Courtois was speaking after picking up his Spanish Goalkeeper of the Year award, which he was delighted to have won.
"This is the most beautiful award I've ever won in my career," he said.
"In 2011 I was crowned as best goalkeeper in Belgium, but this is really on another level. A huge honour. Spain has always had great goalkeepers. Casillas and Valdes are nominated for the FIFPro World XI, and I'm not the only good goalkeeper in the Primera Division.
"I'm happy. This award has been voted by the managers in our league. They know the real value of a goalkeeper.
"I still hope to do better than last season, as I said before, my best so far. I'm still 21 and I can grow as a goalkeeper."