My Career: Graeme Le Saux
As Chelsea prepare to take on Sunderland in the League Cup, Graeme Le Saux remembers his days at Stamford Bridge, including wonder goals past Schmeichel, trying to stop Henry, and jokes with Zola...
By Peter Fraser - Follow me on Twitter @SkySportsPeteF
Last Updated: 20/12/13 11:14am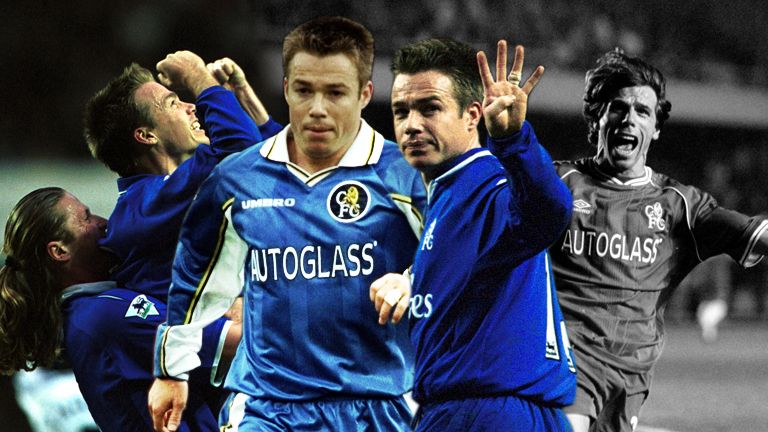 Counting the likes of Marcel Desailly and Gianfranco Zola as team-mates would not be a bad achievement in any footballer's career. Add to this facing the likes of Thierry Henry among many superstar opponents and Graeme Le Saux can look back on his playing days with pride.
The former England international unforgettably won the Premier League title with Blackburn Rovers in 1995 but it was at Chelsea, where he started his career in 1989 before returning in 1997 after four years at Ewood Park, where the left-back won most of his medals.
Le Saux lifted the FA Cup, League Cup, Cup Winners' Cup and UEFA Super Cup among other trophies in his later years at Stamford Bridge having also won the old Second Division title and now-defunct Full Members Cup during his early days with the London club.
It is quite a list of achievements and, here, he talks Sky Sports through his time at Chelsea, including chipping Peter Schmeichel for a wonder goal, trying to stop Arsenal's Henry - who beat Le Saux and his team-mates in the 2002 FA Cup final - and cracking gags with recently-resigned Watford boss Zola.
Finest Hour - Signing For Chelsea
"They were the first club I played for, so signing that contract as an 18-year-old was a dream come true. It was the start of a very long ladder which I had to try and climb but I had 12 years at Chelsea in total, including when I went back after winning the Premier League with Blackburn. I came back for my second spell (pictured with Ruud Gullit) into Chelsea as a club which had changed beyond all recognition from the one which I had left. There were players there like Gus Poyet and Marcel Desailly as well as players who were still at the club from my first spell, like Dennis Wise, and we had great success in my second spell."
Favourite Goal - Chelsea 3 Manchester United 5, January 1998
"It is ironic, because we were 5-0 down at the time, but I scored from about 25 yards out and I chipped Peter Schmeichel. It started a recovery and we nearly got ourselves back into the game. It finished 5-3 but we were very close to pegging them back for a draw. For a player who did not score many goals, any goal I scored has to go down as one of my favourites!"
Toughest Opponent - Thierry Henry / Andrei Kanchelskis
"That is a tough question, because there were so many great players, but Andrei was tremendous for Manchester United. Thierry Henry for Arsenal could also leave you mesmerised with his ability and his pace. I think those two as wingers were the most difficult I played against. You had to respect all of your opponents and know that, if you were not playing at the best of your ability, you would be embarrassed."
Football Hero - John Robertson
"John Robertson of Nottingham Forest was a hero of mine, because Forest were a great team and won two European Cups in 1979 and 1980. All of the Liverpool teams of the late 1970s, including Kevin Keegan and Kenny Dalglish, were also absolutely phenomenal."
Most Talented Team-Mate - Gianfranco Zola
"He was a fantastic player and a great personality as well. He had a lot of humility about him. He worked hard and was a great role model to the younger players. He was the one who stood out. He even had the good grace to laugh at my jokes, so he gets a bonus point for that!"
Graeme Le Saux was speaking on behalf of Thomson Sport, official travel partner of englandfans. For information on official packages for the 2014 FIFA World Cup, please visit www.thomsonsport.com