Premier League: Chelsea manager Jose Mourinho defends strikers
Chelsea boss Jose Mourinho has come to the defence of his misfiring strikers but admitted he expects them to improve.
Last Updated: 13/12/13 3:13pm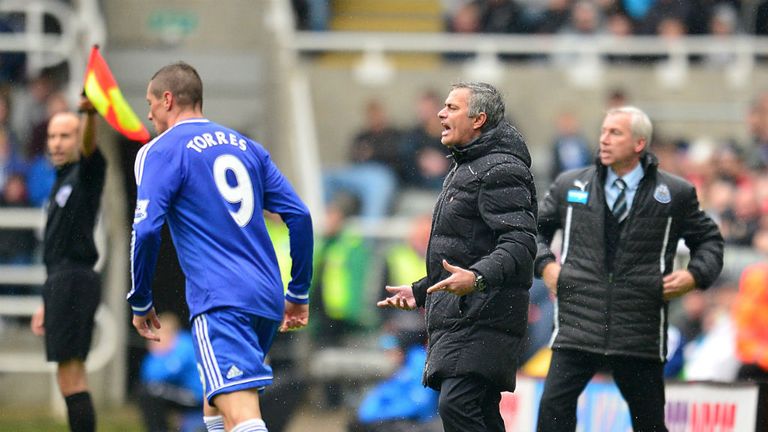 Samuel Eto'o is the club's leading goalscorer with two Premier League goals, while Fernando Torres and Demba Ba have contributed just one goal apiece.
In contrast, Liverpool's Luis Suarez has found the net 15 times in the top flight, with Manchester City forward Sergio Aguero on 12.
But Mourinho does not feel it is helpful to compare different kinds of strikers, preferring instead to focus on how his players gel together as a team.
"Do I expect them to score a little bit more? Yes. Do we need a little bit more? Yes," he said.
"But we cannot compare players with different qualities. We cannot expect Demba Ba or Fernando to get the ball like Aguero or Suarez, to dribble (past) three or four guys, to hit the shot. They are different players.
"Some strikers they are players with fantastic individual qualities and they can by themselves do what their team is not able to do.
"Our strikers are not individual players, they are not players with this kind of quality, with this kind of potential.
"They are more in the team organisation and in the team dynamic and they do other jobs. That's why I'm not critical of them. They do other things for the team.
"In this moment our strikers, the number of goals is quite frustrating. Not just for me, especially for them. But their contribution is good.
"The other guys they play with their strength and their strength is super individual quality.
"The dribble, the shot, the sharp movement, the individual action, so by themselves they resolve problems.
"We don't have this kind of striker."
Mourinho was also keen to downplay suggestions Chelsea will be busy in the January transfer market, despite suggestions he may make another attempt to sign Manchester United striker Wayne Rooney.
"The market opens in January, but as I was saying, I don't think we will be there, buying or selling," he added.
"If something happens it will happen (with) one player because the occasion was very good, because something happened that push us in that direction.
"But we are not smelling the market and waiting desperately for January 1 to do something.
"We always thought to try the best with this team and wait for the right moment to improve the squad and be strong."