Premier League: Chelsea boss Jose Mourinho dismisses duel with Arsenal's Arsene Wenger
Chelsea boss Jose Mourinho played down the importance of his personal battle with Arsene Wenger ahead of Monday's clash.
Last Updated: 23/12/13 7:46pm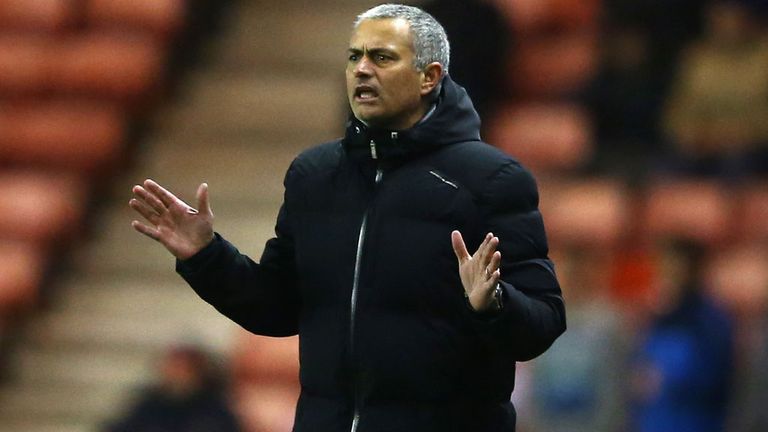 Mourinho has racked up a dominant record against Wenger's Arsenal, who have never beaten his Chelsea side in nine attempts before the 10th meeting at the Emirates on Monday.
Chelsea have won five and drawn four times in a duel which dates back over nine years, but Mourinho is paying little attention to these statistics.
"It's not me against Wenger," said Mourinho.
"It's my Chelsea against his Arsenal. And that (the record) doesn't play Monday. It has no influence. That stat, for the game of Monday, means nothing.
"I just feel that we played better, we deserved more and we won these matches.
"In my time I remember just one game where we were close to losing, which was a game at home where (Michael) Essien scored the equalising goal in the last part of the game (in the December 2006 Premier League draw).
"After that, even at the Emirates, playing with 10 men for 75 minutes we played a fantastic match and we drew 1-1 (in May 2007).
"My memories are that, against them, we played very good matches. As a consequence of that, we got good results."
The Blues will move above Arsenal in the table with a win and they have already beaten the Gunners on their own patch this season in the Capital One Cup.
Mourinho is reading little into the result and both line-ups will be stronger in this latest meeting.
"Different competitions, different motivations, different responsibilities, different players in some cases," he said.
"Still Arsenal, still Chelsea, still a London derby, plus the fact that the first is playing the third, or the second, whatever you prefer.
"(It is a) big match for sure. It's a pity that it's not tomorrow (Saturday) because I'm waiting for the game and I'm ready to play the game and I want very much to play the game."