Premier League: Chelsea boss Jose Mourinho wary of Arsenal playmaker Mesut Ozil
Jose Mourinho admits he is wary of the danger posed by Mesut Ozil ahead of Monday night's clash with Arsenal.
Last Updated: 23/12/13 7:46pm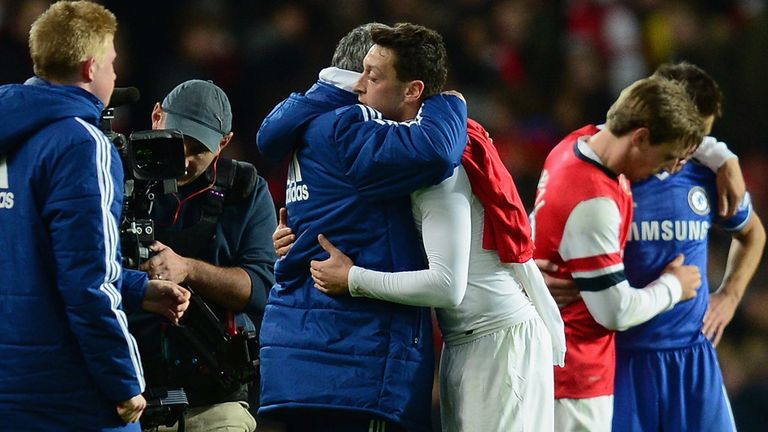 Ozil's seamless arrival in the Premier League from Real Madrid, where he played under Mourinho, has "completed the puzzle" for Arsene Wenger's Arsenal, the Portuguese believes, firmly establishing the Gunners as title contenders.
Mourinho said: "He arrived, Arsene gave him the shirt, immediately he starts playing and immediately the team becomes better.
"He's a phenomenal player. He's one of those players that you buy and you complete the puzzle of your team."
It was Mourinho who signed Ozil for Real - from Werder Bremen after impressing at the 2010 World Cup - and the Chelsea boss suggested the Germany forward has no faults in his game.
Mourinho said: "I know his strong points. Not the weaknesses.
"I think I know how to try to stop him to be in the game (for) 90 minutes, with 90 minutes of direct influence.
"But it's impossible to stop him for 90 minutes, because these kind of players they will have always a moment or a couple of moments where you cannot stop them and they end up showing why they are so good.
"To stop him completely, I don't believe we can."
Mourinho left Real Madrid to return to Chelsea in June before Ozil followed a similar path to London, albeit to Arsenal in a club-record deal worth in the region of £43million.
"I was surprised, but at the same time I understand what Real Madrid is," said Mourinho of Madrid's decision to allow the playmaker to leave.
"It's a club that needs to do by their philosophy what they did with Gareth Bale, what they did with Isco.
"When you buy Isco, when you buy Bale, to keep also Mesut, maybe they made their decision because of that."
Asked whether he was surprised Wenger spent such a figure on one player, Mourinho said: "It's improved his team. There are many ways to improve your team.
"One of the ways is to work young people and give them time to grow up and to improve.
"Another way is to go directly to the market and buy an end product in the top moment of their careers. They had the chance to do it with Mesut and they did it very well."
Mourinho believes it is necessary to both recruit leading players and nurture young talent to be successful.
"If you are just building, building, building, probably you're not going to get there," he said.
"He got an important player that's changed his team clearly.
"Eight years developing his players and making the kinds of (Theo) Walcott, (Kieran) Gibbs, (Aaron) Ramsey and his boys become men and really very good players and at the same time buying people like Mesut. That's why they're good (this season).
"In my time here, Walcott was a kid. He's now a man. And these other guys, now they are players in the best moment of their careers.
"(Jack) Wilshere, Ramsey, Walcott, Gibbs. All these guys they are at the perfect age.
"I'm not saying Mesut transformed the team completely. I'm saying the manager and the club gave these players conditions and time to have great stability in their evolution.
"Now when you come and you buy (Olivier) Giroud and you buy Ozil and you buy some other players, your team becomes much better and ready to be doing what they're doing, which is to fight for the title."
Wenger has been cautious when questioned on Arsenal's title credentials.
"Maybe it's a strategy," Mourinho said. "But I think in the depth of their souls they believe they can (win) and they believe they have conditions to do it."
Watch Arsenal take on Chelsea live on Sky Sports 1HD from 7pm, or for just £4.99 with a NOW TV day pass.