Samuel Eto'o sorry for challenge on Jordan Henderson
Samuel Eto'o has apologised to Liverpool's Jordan Henderson for his challenge on the England midfielder.
Last Updated: 31/12/13 11:34am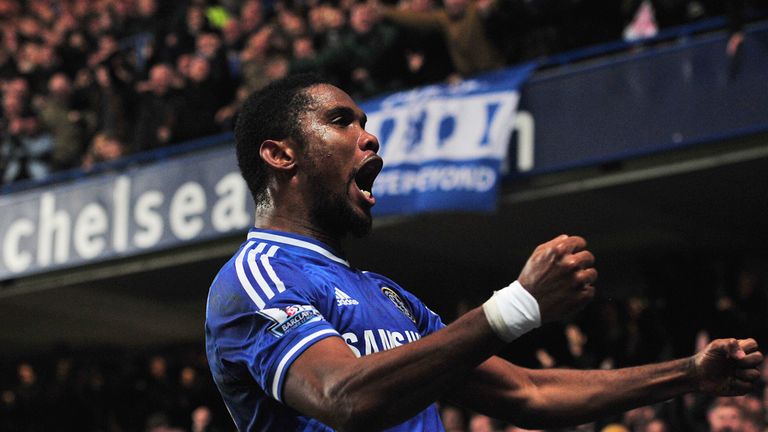 The Cameroon superstar bagged the winning goal at Stamford Bridge, but some of his other contributions dominated the headlines post-match.
As well as his clash with Henderson, Eto'o also clashed with Luis Suarez and was seemingly fortunate not to concede a late penalty - whilst he also swapped shirts with Mamadou Sakho at half-time.
Asked about his challenge on Henderson, Eto'o told The Sun: "Maybe I should have been sent off.
"But I'm not the referee. Everyone is entitled to their opinion but we must respect decisions from the officials.
"During the match in the first moments, the game was passionate on both sides, but people know I'm not violent. I was really sad to see Jordan on the floor - I want to take this opportunity to say sorry.
"There are days where I'm the one who gets kicked - it's football and can happen unfortunately.
"But my only intention was to defend and prevent my team from conceding a goal, nothing else. It wasn't to take out an opponent."
However, Eto'o was less than convinced his tackle on Suarez merited a penalty.
"The ref did his job. He was two metres from us," he reflected.
"We can't all be the ref and it's easy for people to talk when they are far away. Yes, there was contact - but I didn't commit a foul."
Webb
He also defended referee Howard Webb, who has been criticised by some Liverpool fans for his performance.
"He's not one of the best referees - he is the best in the world!" he insisted.
"If this task was easy then we'd all be referees. He may be the best but remains human. Liverpool fans can complain but so can Chelsea supporters because there was a penalty on Eden Hazard.
"That would have given us a comfortable 3-1 advantage and maybe we could have scored more goals at that point because it would have ruined Liverpool's confidence.
"The ref did not influence the result."
And Eto'o does not have any issues with his half-time shirt swapping with Sakho.
"No matter about the emotions, football stays beautiful because, even after a fight, people can shake hands," he said.
"Football gives emotion, there's no good moment to exchange shirts. When the emotion is there, you're not over-thinking it.
"Sakho is a young brother and I was happy to get his shirt and I think he was happy to get mine.
"Just because we changed shirts at half-time does not mean we're not fighting for our teams.
"We're doing it with respect and Sakho was one of Liverpool's best players on Sunday - he fights for his club.
"I don't understand why people are making a fuss about this. We should be able to shake hands during a game or help another player get up.
"Even when you're at war against an enemy, you still need fair play."
Eto'o also singled out team-mate Eden Hazard for another brilliant display against Liverpool.
"What a fantastic player he is," he said.
"He understands that the important games are played by big players with charisma. It's an honour to play by his side."