Champions League: Eden Hazard thinks Chelsea's underdog status is a positive
Eden Hazard hopes that Chelsea's underdog status in the UEFA Champions League could work in their favour once again.
By Kristof Terreur
Last Updated: 31/12/13 12:43pm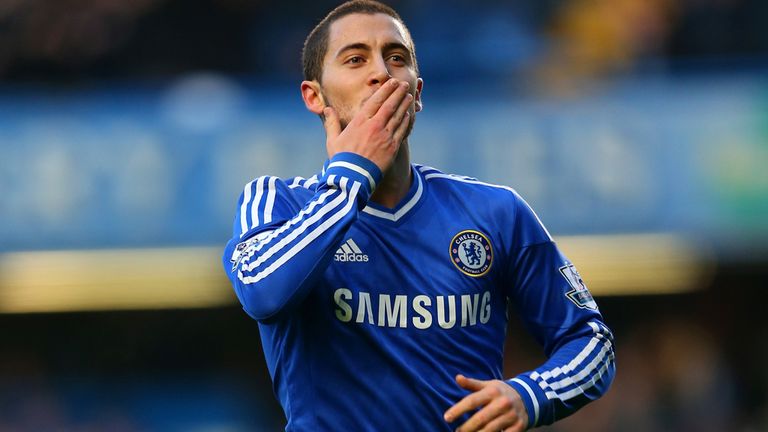 The Blues were classed as outsiders in the 2011/12 competition, but after seeing off Barcelona in the semi-finals, they went on to lift the trophy following a penalty shoot-out victory over Bayern Munich.
Jose Mourinho's side face Turkish champions Galatasaray in the first knock-out round of this season's competition, although Hazard believes that there is no pressure on Chelsea to win the tournament this time around.
"We still have a young squad. Nobody's calling us favourites for the Champions League this season," he told La Capitale.
"Maybe it's good. In 2012, when Chelsea won the Champions League, they weren't favourites either.
"We're already a strong team, but I think we still need two years to win the trophy. With some reinforcements, that must be possible.
"In the European Super Cup final we played a draw against Bayern Munich, the strongest team in the world. So everything is possible.
"But first things first, we've got to beat Galatasaray with Didier Drogba, an icon at Chelsea."
In the Premier League, the Belgian bagged the equaliser as Chelsea came from behind to beat fellow title hopefuls Liverpool, and Hazard thinks the goal should prove some of his doubters wrong.
"Unfortunately the goal did not count double because it was in a big match," he said.
"But I silenced those who said I only score against weaker opponents. That gives me pleasure. I try to score in every match.
"I don't set myself targets for the season, but my aim is to get goals and assists, and the most important thing is three points.
"In football, stats are really important. I score more goals now and I assist more.
"I can play an average game and score two times. But I can also play a top game without contributing. I'm a perfectionist but I'm not a killer yet, I'm working on it."
Hazard also spoke of his relationship with Jose Mourinho, saying that the Chelsea boss has a good bond with his squad.
"I think Jose Mourinho likes me. He's sometimes provocative; he loves to play mind games," Hazard said.
"He launches things to motivate players in a positive way. What people don't know is that he's close to his players.
"He leaves me alone, lets me work and when he has something to say, he tells it to your face but always with a friendly pat on the back.
"He a top coach and a great personality."