Premier League: Jose Mourinho says it's 'game on' in the Premier League title race
Chelsea manager Jose Mourinho goes into 2014 insisting it is 'game on' for the Blues in the Premier League title race.
Last Updated: 01/01/14 4:00pm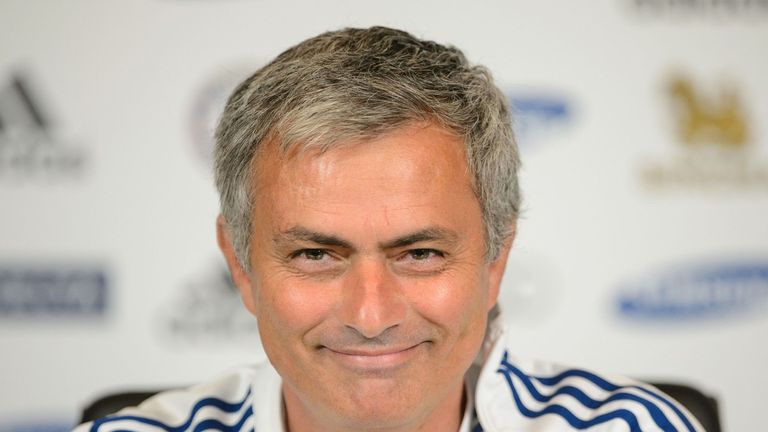 Chelsea begin the year in third place, two points off leaders Arsenal and one behind second-placed Manchester City.
Mourinho points out that the Blues are in a much better position than this time last year. "Last year in this moment we were 12 or 11 points behind the leader, so game over. In this moment we are two points behind, so game on. Let's keep going," he said.
Mourinho believes that Manchester City remain the favourites for the title, and he insists he is not trying to play mind games by saying so.
He said: "Do you think I'm putting pressure (on City)? You think I'm capable of it? See the squad, see the players, the number of goals, the strikers. (Edin) Dzeko is the third striker of Man City. Dzeko. (Stevan) Jovetic, the fourth," he said.
"I think they know how good they are and I think they know they are the favourites. I don't think they feel any pressure."
Whilst talking enviously of City's striking riches, Mourninho says the Blues have no plans to bolster the forward ranks during the winter transfer window.
Chelsea's strikers have six Premier League goals between them this season - Samuel Eto'o (three), Fernando Torres (two) and Demba Ba (one) - compared to 19 for Liverpool's Luis Suarez and 13 for Sergio Aguero of Manchester City.
"I'm happy with them," Mourinho said. "I keep saying that they are not this profile of player that scores every weekend and scores 20, 25, 30 goals in a season.
"But they are giving everything they have and I am happy with them. No new strikers in January, because we trust these guys and we go with them.
"This season the top four will be a big achievement for everyone. The difference between the top four and being champion, it looks like it's not a big difference, so I think the first objective for everyone is to attack the top four.
"And if we can protect the top four, let's see what we can do and let's see if Man City kills everybody or if they keep being close to all of us."
Mourinho maintains there are still six sides vying for the title - and Chelsea are yet to be beaten by any of them.
"I think the six are (still) there," Mourinho added. "Of course, Everton and Newcastle are close to the top four, but I think Tottenham and Man United are ready to attack the top four.
"When they (United) were 10, 15 points behind and losing at home, I was saying Man United are Man United. Tradition plays a big part, so Man United is there ready to jump into the top four and to give a fight to everyone."