Transfer news: Chelsea in talks over the future over goalkeeper Thibaut Courtois
Atletico Madrid goalkeeper Thibaut Courtois says discussions have begun with parent club Chelsea over his future.
By Kristof Terreur
Last Updated: 09/01/14 9:58pm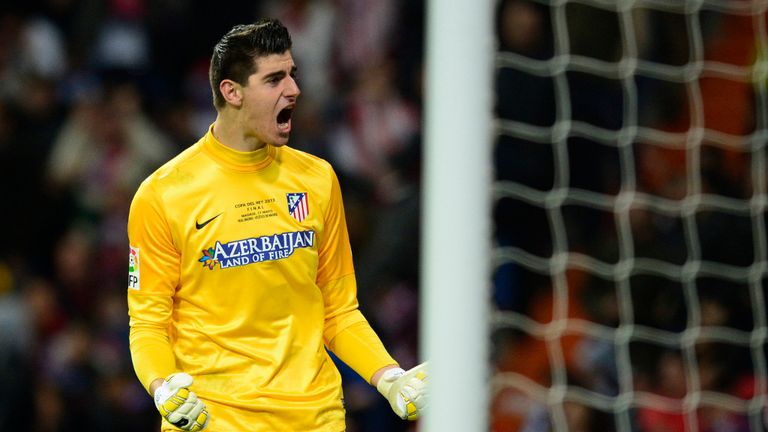 The 21-year-old joined the Blues from Genk in 2011 but has been on loan at the La Liga side for the past three years, filling the gap left by David De Gea when he joined Manchester United.
Courtois, who was recently linked to Barcelona, has impressed for Diego Simeone's side but admits that his future remains uncertain beyond his current loan deal.
"My agent is currently talking with Chelsea," he told Knack.
"One of the weeks I'll have a chat with Jose Mourinho - when we meet hasn't been decided yet. January is a busy month for me and also for Chelsea."
Having established himself as Belgium's first-choice stopper, Courtois also admitted that he would need to be playing regular football should he return to Stamford Bridge.
"I will never say I'm a better goalkeeper than Petr Cech," he said. "But I'm not a player anymore that you can put on the bench, I think.
"I will take that in mind when I take a decision. I can say what I think, but in the end the boss makes the decision.
"Clubs don't take advantage of taking decisions against the willingness of a player, but in the end it stays a game of supply and demand.
"Clubs who are interested have to pay what Chelsea asks, if they want to sell me of course."
Looking at the mixed fortunes of his fellow countrymen at Chelsea, Courtois added: "Eden Hazard is the only of the four Belgians who've made it into the first team.
"Romelu Lukaku, Kevin De Bruyne and I knew it wouldn't be easy when we signed, so we don't have to moan.
"Maybe we'll end up with all four in the team - who knows. And if not, we will find a solution for our career."