Premier League: Chelsea boss Jose Mourinho mocks Manchester United link
Jose Mourinho has mocked the suggestion that he broke down in tears when he was overlooked by Manchester United.
Last Updated: 18/01/14 7:16am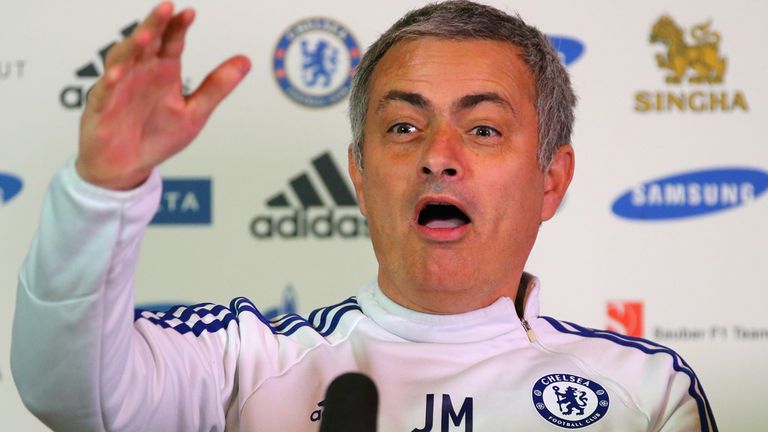 Old Trafford is thought to have been Mourinho's desired choice for his second spell in England, only for Sir Alex Ferguson to recommend David Moyes as his successor.
In Diego Torres' book 'Prepare to Lose: The Mourinho Era', it is claimed that Mourinho sobbed when he was told that Moyes would be taking over at United and viewed the decision as a betrayal by Ferguson.
"I think the person who wrote that book shouldn't write books. He should write books for kids using his imagination," Mourinho said.
"I am where I want to be. I want to go nowhere else. I have the job I want to have, I don't have another job.
"When I left Porto I wanted to come to England because at that time there was no Chelsea, I had no emotional connections with any club.
"When I left Chelsea I wanted only Italy or Spain, not another English club.
"After Real Madrid I wanted England and if possible, Chelsea. It's the only time I've said this country and this specific club.
"If not Chelsea then I'd have been in England at another club, but when the door at my club opened for me, I had the job I wanted to have."
Ferguson announced his retirement on May 8 last year with Moyes' confirmed as his replacement the following day, while Mourinho was named Chelsea manager for the second time on June 3.
"I knew a couple of weeks before the announcement because my friend (Ferguson) was very nice to me and trusted me completely," Mourinho said.
"He told me something really important before the press, he didn't want me to read it in the press. He told me you are one of my best players in football, I want you to know it from me.
"He was so nice to me, he gave me such a big reasonability to keep that.
"From me never, but I was afraid that somebody might leak it and the boss could think it came from me, so I was a little under pressure.
"In the same way he knew from me that I was coming back to Chelsea. It's just things between friends.
"I wasn't committed to Chelsea at the time, but I wanted to come and Chelsea had expressed the desire for me to come back."
Sky Sports brings you closer to the sport you love in 2014 with live sporting coverage from the Barclays Premier League, UEFA Champions League, Formula 1, Super League, The Masters, Ryder Cup and much more. Visit www.sky.com to find out more about how you can upgrade to Sky Sports.