Jose Mourinho plans long-term stay as Chelsea boss second time around
Jose Mourinho intends to better his previous spell as Chelsea manager by seeing out his contract at Stamford Bridge.
Last Updated: 19/01/14 8:09am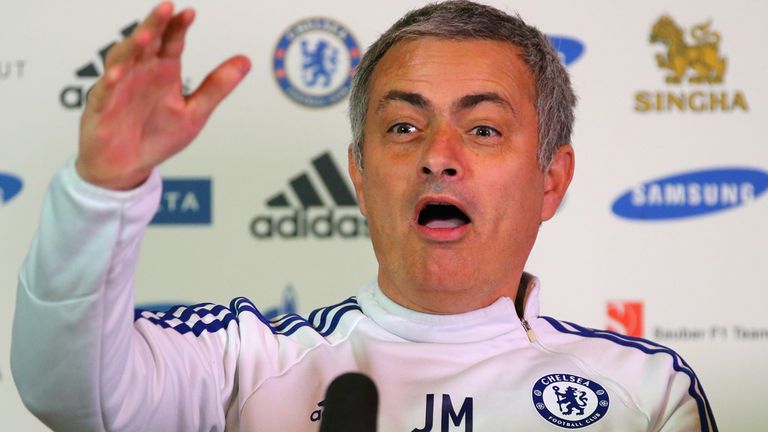 Mourinho's first stint in west London lasted just over three years from 2004 to 2007, making him the longest-serving coach of the 10 to have worked under Roman Abramovich.
His current deal is due to expire in the summer of 2017 and Mourinho believes the
"I have the record - three and a half years. I have to try and beat the record!" said Mourinho, whose current deal is due to expire in the summer of 2017.
"The club is good - it is more mature and stable now. The club knows what it really wants. The basic thing is the club wants to win, but it also knows the direction it wants to go in.
"That's why I came back. Not just because I love Chelsea and want to be back, I came because I believe in the project.
"I'm here to do my best and to beat the record. I have a four-year contract, so hopefully I'll beat the record."
The former Porto and Real Madrid boss insists he can change his managerial style to suit a long-term assignment.
"I study and reflect a lot about my style of leadership when I'm at a certain club," he said.
"If you want the best results immediately and for a couple of years, your leadership can be much more confrontational. It's a different way to educate your players.
"Having a relationship with players for a couple of years is different to educating players with the mentality that I will have them for six, seven or eight years.
"It's a different job for me at Chelsea this time. It's time to be different because of my own project of life.
"I have had my career project since the beginning. I wanted to work in Italy, Spain and England. I wanted to try to win the leagues in these big football countries.
"For us it's very important to be a family that lives together day by day. So I wanted to do it while having this family concept.
"I was so happy at Inter Milan, but the only reason I left was because I wanted to go to Spain. Otherwise I would have stayed at Inter.
"At this stage I don't have these ambitions. At this moment I know where I want to be, it's so simple."