Chelsea defender Gary Cahill believes Samuel Eto'o is a top player
Gary Cahill has hailed striker Samuel Eto'o as a 'top player' after his hat-trick against Manchester United on Sunday.
Last Updated: 20/01/14 5:31pm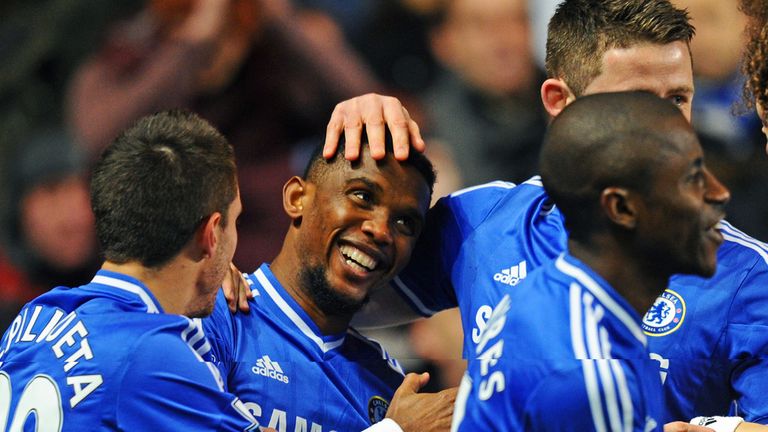 Mourinho selected the Cameroon striker over Fernando Torres and his decision was justified as Eto'o bagged a treble against the reigning champions.
Cahill helped to create two of Eto'o's goals and admits it is great to have a player of his quality in the Chelsea squad.
"This hat-trick is going to do his confidence the world of good," Cahill said.
"He is a top, top player, a great performer. He's been involved in massive games in the past.
"It's great to have a player of that ability - with all his experience - in our squad."
Eto'o has been linked with a move to Major League Soccer but the former Barcelona and Inter Milan star has been quoted as saying he would favour a return to Real Mallorca.
He reportedly told Spanish radio station COPE: "I have signed all season for Chelsea and I try to enjoy it and then to Mallorca."
Eto'o made no mention of his future when he spoke with Chelsea TV in the wake of the victory over United.
He said: "Before the game I spoke with Jose. I told him I like big games and I wanted to play in this game.
"It's tough. He has big strikers, Fernando, Demba. He gave me my opportunity.
"I'm so happy for me, for the team and the supporters."
And Cahill shares Eto'o's enthusiasm for Chelsea's win on Sunday and believes confidence is building in the squad.
Chelsea remain two points behind Premier League leaders Arsenal with 16 league games to go and Cahill is intent on keeping the pressure on.
"The lads are feeling confident, we're going about our business quietly and we're churning out results at this moment in time so we hope that continues," Cahill told the club's official website.
"There's a good feeling among the squad. We're there, we're in and around.
"Arsenal and Man City aren't dropping points at the moment so we need to be within touching distance.
"We are, and we're happy with how it's going."