FA Cup: Chelsea boss Jose Mourinho welcomes chance to face Manchester City
Jose Mourinho had no problem with being drawn against Man City in the FA Cup after Chelsea beat Stoke.
Last Updated: 27/01/14 7:48am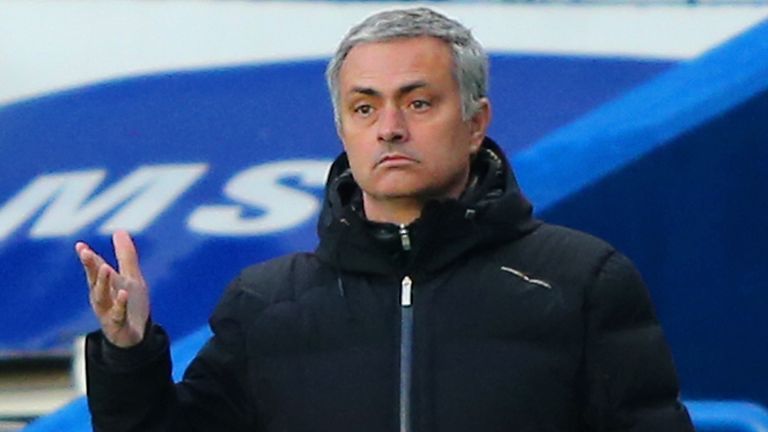 The Blues sealed their place in the last 16 thanks to Oscar's fabulous free-kick in a 1-0 win over the Potters, although the margin of victory could have been more convincing after a number of chances were missed.
The result meant that Mourinho could celebrate his 51st birthday in style, and he refused to have the smile taken off his face when the draw for the next round sent Chelsea away to City.
When asked if he had seen his birthday happiness taken away, he asked: "Taken away what?"
City have scored 110 goals in all competitions this season and have put numerous teams to the sword on their own turf.
Arsenal and Tottenham were hit for six while Manchester United conceded four on the blue half of the city.
Chelsea are already slated to head there in the league on February 3 and will now return over the weekend of February 15 and 16.
"It's good, that's good," Mourinho said. "Our priority for the season is to improve and the best way to improve is difficult tests.
"We play against the best team twice in 15 days, in the best stadium, in the stadium where they win every week, smash everyone, score four, five goals every game even against the big teams like Arsenal, Tottenham, United.
"It's a good thing for us. We are playing very well in my opinion. It's good for us; if we lose, we lose against the best. If we don't lose, it's fantastic."
Mourinho insisted there will be no pressure on his side in those matches against City.
He added: "We are ready to go there and enjoy. We are going to go there with a good attitude. We have nothing to lose, they have everything to lose, they are the team that was made to win.
"They feel now the same thing I was feeling here (at Chelsea) in 2004, 5, 6, 7. They have the best team and have to win and if we (Chelsea in the past) don't it's because we do something wrong and they must feel the same."
Reflecting on the win over Stoke, Mourinho lauded the work ethic of Oscar but felt Chelsea should have had more goals to show for their dominance.
"The free-kick obviously made us happy," Mourinho said.
"It's always good when you see a player that, after the normal training session, dedicates some minutes every day to train a specific thing. To score a beautiful goal was good.
"It's a bit of a contradiction because we played so well and you win with a free-kick. When you play so well you win by scoring some amazing goals in free play.
"The 1-0 doesn't reflect the quality of our game and the dominance of our game.
"We hit the post twice. (Stoke goalkeeper Asmir) Begovic again showed how good he is. The boys played really well.
"We controlled the game since minute one and I'm happy not just with the victory, but also the performance."
Oscar is Mourinho's chosen playmaker, something which saw Juan Mata marginalised and move to Manchester United.
Mourinho sanctioned the deal with a heavy heart as Mata, Chelsea's player of the year in each of the last two seasons, was unable to satisfy his demands to track back in defence.
The Portuguese, who read Mata's departing open letter to Chelsea fans, said: "I feel sorry that I didn't make him happy, but football is football and I build a team around Oscar in that position and on the sides the other people are doing very, very well.
"Juan is not comfortable on the sides. He tried very hard and he did very well in some matches playing on the sides, but it's not his natural habitat.
"So when a club like Man United comes and for sure they told him he's going to play in his favourite position and he wants to go, he goes."