Chelsea boss Jose Mourinho believes Manchester City have underachieved
Jose Mourinho has continued his criticism of Manchester City ahead of Monday's crucial showdown at the Etihad Stadium.
Last Updated: 02/02/14 2:29pm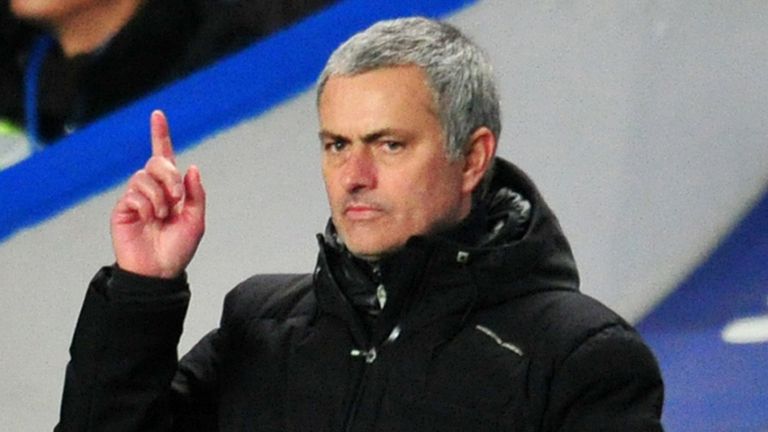 A day after claiming City had been "lucky" with a number of refereeing decisions this season, the Chelsea boss insisted the Premier League leaders have underachieved - particularly in Europe - considering their huge spending.
City won a first Premier League title in 44 years in 2012, but have yet to make a firm impact on the Champions League, in which they face Barcelona later this month in the first knockout round.
"They won one title, won a couple of cups," said Mourinho. "Only in Europe they didn't do well, or close to doing well.
"Speaking objectively, they did very bad in the Champions League in previous seasons, also in the Europa League.
"But the team is fantastic, the squad is fantastic and normally they (should) win more titles."
Asked what it will take for City to progress to the latter stages of the Champions League, Mourinho made reference to boss Manuel Pellegrini's mis-calculation at Bayern Munich, when his side needed one more goal to advance as group winners and avoid the likes of Barcelona in the last 16.
"The first thing to be successful in Europe is to know the rules of the competition. That's the first thing," the Blues boss joked.
However, Mourinho also insisted that City were favourites for this season's Premier League title, although he is enjoying building a Chelsea team for the future.
He added: "I enjoy building a team. I enjoy building the future. I enjoy not working just for today, and next season to start again with another team, spending a lot of money again, selling a lot of players, bringing in a lot of players.
"I'm enjoying this very, very much. To be the underdog I don't enjoy.
"(But) I think I'm going to enjoy next season. It is more me - and I think it's more Chelsea too - to start next season and say immediately we are candidates, the same way the others are candidates."
Asked if Chelsea can keep pace with City, given their spending, Mourinho said: "We think that we are not very far from having a squad that allows us to compete face to face with every club, doesn't matter how much the investment is, doesn't matter how much the financial play is 'fair' or 'dodgy'."
Mourinho also believes that Ashley Cole's place in the England World Cup squad is safe despite the left-back having limited playing time of late due to the form of Spaniard Cesar Azpilicueta.
"Ashley is playing well with us," Mourinho said. "If he's not playing every game, okay, he's not playing every game, but he's playing and he's playing well and I think that's what Roy Hodgson needs to feel and know.
"I believe more in stability, believe more in knowing the player and what the player can give you in high-pressure situations like a World Cup.
"It's not my problem, it's Roy's problem, but I think much more that he goes for stability and takes Ashley and (Leighton) Baines that were the two left-backs in qualification."
Watch Manchester City take on Chelsea at the Etihad Stadium live on Monday Night Football on Sky Sports 1 from 7pm.