Premier League: Gary Cahill hails Chelsea hat-trick hero Eden Hazard
Gary Cahill hailed Eden Hazard after he scored a hat-trick against Newcastle to send Chelsea top of the table.
Last Updated: 09/02/14 11:31am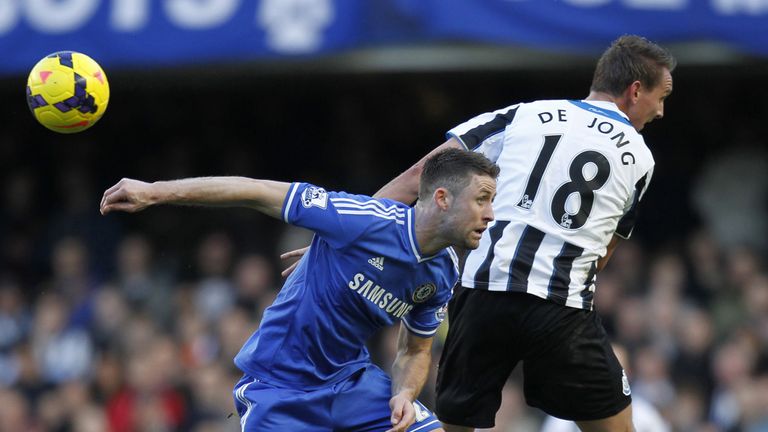 Hazard netted twice in the first half of Saturday's Premier League clash at Stamford Bridge, before slotting home from the spot after the break.
"I think he's grown as a player and he's becoming better and better," said Cahill.
"He's producing some world-class football for us at the minute. He was the difference in the first half and thoroughly deserved his hat-trick and at the minute, he's playing some great football.
"We wanted to keep the momentum going. We had a great result (against Manchester City on Monday) and it was important for us to return to winning ways off the back of that at home. Our home form has been good so we just wanted to keep that going.
"I think momentum is with us going forward trying to win as many games as possible. Obviously there is no better feeling than that and at the minute, there is a lot of confidence in the group so we just hope to continue that."
Chelsea started the day in third place but Liverpool's 5-1 thrashing of Arsenal and Manchester City's goalless draw against Norwich lifted the Blues top of the table.
"That's football and it's pleasing for us," added Cahill. "We saw the (Arsenal) result before we went out. We didn't know about City's result until we came back in so regardless of what happened with the other results, we had to get our result today and thankfully we did that.
"It's obviously nice when other people slip up, but there is still a long way to go before the end of the season and at the minute, we've got a good momentum.
"The spirit is high. We go from game-to-game, with momentum and at the minute it's good because we are winning games and we want to continue that.
"Like I said, there is no better feeling than winning football matches and we hope we can continue that and see where that takes us come the end of the season.
"We're pleased with how things are going and let's hope that continues."