Eden Hazard dreaming of Premier League title after scoring his first Chelsea hat-trick
Chelsea star Eden Hazard hopes his hard work on the training ground will result in a first Premier League title in May.
Last Updated: 10/02/14 10:43am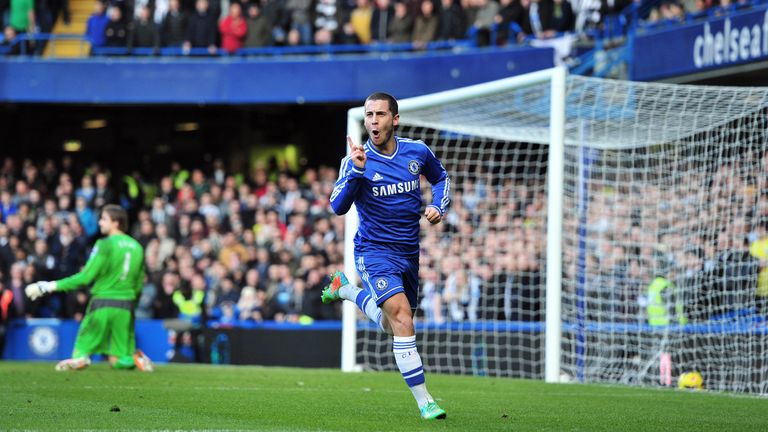 Hazard's first hat-trick in English football was the difference between Chelsea and Newcastle on Saturday and sent his side a point clear at the top after Arsenal and Manchester City failed to win.
Jose Mourinho's side have 13 games to hang on to their lead, but the manager continues to insist City are favourites for the title.
Hazard is not deviating too far from the party line, but the Belgium international is at least allowing himself to "dream".
He said: "Top of the league. I go in my bed, I dream. I hope at the end of the season it will be the same. It's a pleasure to play for this team and to work for that."
Mourinho holds up Hazard as the epitome of the work ethic he has sought to impose since returning to Stamford Bridge, and the manager on Saturday demanded greater recognition for his in-form player.
Hazard said: "I work every day. I feel good on the pitch. I have experience now, because last season was my first. I try every game to make the difference for the team. It was another good day for me."
Frank Lampard handed over penalty duties for the third goal against Newcastle, and a grateful Hazard said: "It's a good present. Without the team I'm nothing.
"I just want to say thank you. Thank you, Lamps, for the penalty, because normally it's for him. I just said 'if you want it, take it, I don't care'. He said 'no, no'."