Transfer news: Chelsea winger Eden Hazard dismisses PSG links
Chelsea winger Eden Hazard has dismissed talk of a move to PSG, despite Thiago Silva saying he would like him to join.
By Patrick Haond
Last Updated: 11/02/14 7:36pm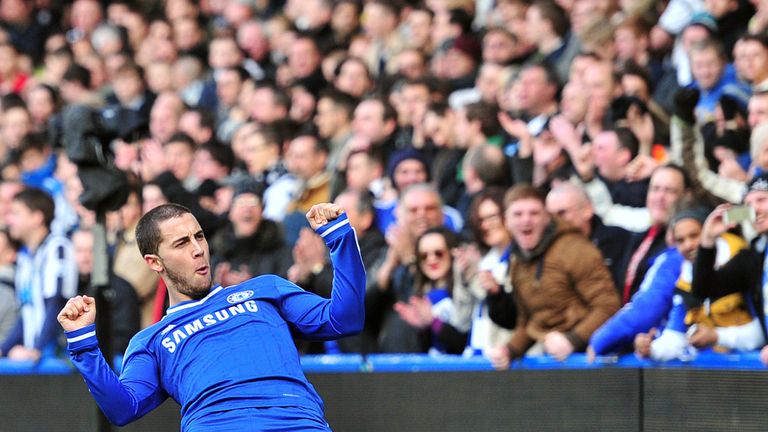 Hazard has been in fine form for the Blues of late, netting 12 times in his 25 Premier League appearances so far this season, including a sublime hat-trick in the 3-0 win over Newcastle United.
The 23-year-old, who made his name in France with Lille, has been reported to be a target for PSG and that was further fuelled by Silva's recent comments.
However, Hazard says that although he is flattered by the rumours, his target is to achieve success at Stamford Bridge.
"It has never been a question to leave Chelsea for me," he told L'Equipe. "I am very happy at the club, where I still have a lot to do.
"It is an honour to hear that PSG are interested in me, but it doesn't disturb me. I know exactly what is in my mind. No one will make me change.
"The objective is to be good with Chelsea. A young player like me is learning a lot with experienced professionals like Frank Lampard, Petr Cech or Samuel Eto'o.
"I try to get inspired by their daily work. It makes me grow. That is why I believe my best years are yet to come."
Hazard's recent displays have led to comparisons between himself and the likes of Lionel Messi and Cristiano Ronaldo, but he says that he still has some way to go to match their achievements.
"I am much younger," he said. "They won titles, I didn't. However, I have nothing to be jealous of them at the same age. I want to become like them one day, which means winning titles.
"It is up to me. I am on the right path, but I still have a lot to do during big matches. I have to score all the time, just like Zlatan (Ibrahimovic), Ronaldo or Messi. I still have to work to reach their level."
Hazard has played down Chelsea's chances of silverware in the UEFA Champions League this season, but admits that the Premier League title could be a possibility if they can emulate the recent 1-0 win at Manchester City on a regular basis.
"We are still in three competitions with Chelsea," he said. "I don't think the Champions League will be for us this season because there are better teams.
"We will see about the Premier League. If we play all matches like we did against City, we will be champions. Anyway, I won't do anything alone. If we can get titles, it will be thanks to the team.
"It is my second season at Chelsea. I am at one of the best clubs in the world and I am always playing.
"I still have to work on steadiness and efficiency but each year I can improve. It is now up to me to keep my feet firmly on the ground to reach new levels."