Premier League: Jose Mourinho regrets Chelsea failure to kill off West Brom
Jose Mourinho said Chelsea lacked 'the personality' to kill off Tuesday night's Premier League game at West Brom.
Last Updated: 12/02/14 10:48am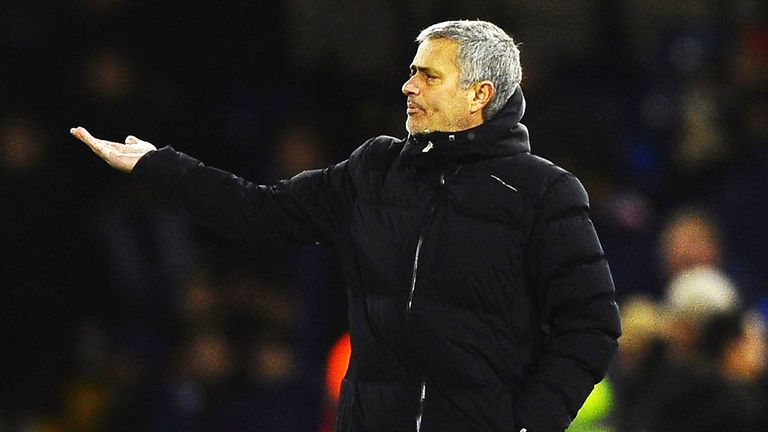 Mourinho's men would have extended their lead at the top of the table to four points with a victory and took the lead through Branislav Ivanovic during first-half stoppage-time.
However, the Baggies equalised through Victor Anichebe with just three minutes left and Mourinho says the Hawthorns result proved he has been right to downplay Chelsea's title credentials.
"A ready team, a complete team, kills this game, 2-0, goodbye, but we didn't," he said.
"For 60 minutes, there was only one team, and that team couldn't kill the game, especially in the first 15 minutes of the second half
"In the second half, they opened and gave us the space we didn't have in the first half, but we were not strong enough to kill the game.
"They had a reaction and we couldn't cope with the reaction. The team stayed back, we were too deep.
"I thought that, even if I sent on some attacking players it wouldn't help, because we were under pressure. It was impossible for my defenders to get out of the first third of the pitch.
"They started putting long balls into the box, with some free kicks, corners and rebounds, and fighting for those."
Asked why his team were sitting too deep, Mourinho replied: "A little bit of a lack of personality.
"We must have the personality to get out, to not accept the pressure.
"The game could perfectly have ended 1-0, but we have to give some truth to their reaction.
"At the end of the day, it is one more point and we have one more than the previous day."
Tune in for Match Choice on Wednesday night, 10pm, Sky Sports 1HD to watch extended highlights from the evening's Premier League matches.