Premier League: Chelsea boss Jose Mourinho coy on row with Arsenal's Arsene Wenger
Chelsea manager Jose Mourinho has refused to be drawn further into a row with Arsenal boss Arsene Wenger.
Last Updated: 21/02/14 9:58pm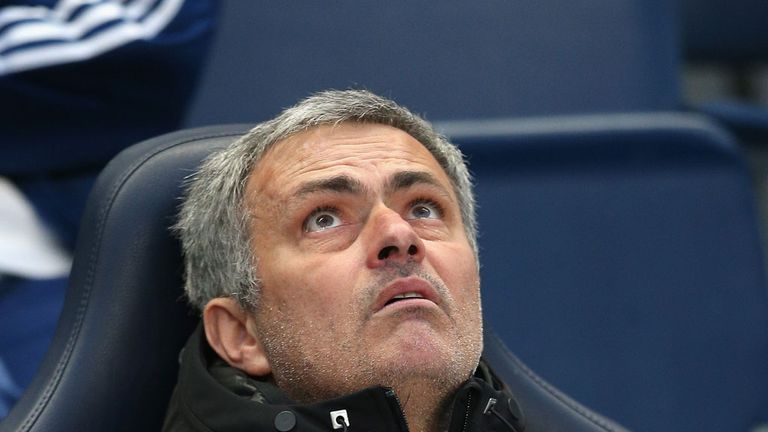 The pair had a very public war of words a week ago when Wenger suggested that Mourinho had a fear of failure due to the Portuguese asserting his side were outsiders for the title.
The Blues boss responded by stating that Wenger was a "specialist in failure" following Arsenal's run of eight years without a trophy.
This week, the Frenchman described Mourinho's comments about him as "embarrassing" but when questioned on Friday about the subject he declined to comment.
Mourinho also flat-batted a number of other questions, including one about Wayne Rooney, who Chelsea have been linked with in the past but who has now committed his future to Manchester United in a deal reportedly worth £300,000-a-week.
"I don't react," said Mourinho.
When asked about the title race, which sees Mourinho's league-leading side a point above second-placed Arsenal and two in front of Manchester City, who have a game in hand, Mourinho responded: "The table is there. You can look at the table and see how the table is.
"We are top of the league but we can be second if Man City wins the match they have in hand. If we win tomorrow, we keep the same position."
The Chelsea boss was also asked about City and Arsenal's travails in the Champions League, in which both lost the home first leg of their Champions League last-16 ties 2-0 to Barcelona and Bayern Munich respectively.
Mourinho, whose side face Galatasaray in their own last-16 tie on Wednesday, said: "My Champions League starts Wednesday.
"I play Wednesday and I concentrate on that."
And the 51-year-old was also defensive when discussing Saturday's opponents Everton, who were responsible for one of Chelsea's three Premier League losses this season at Goodison Park in September.
"We think we can beat them because we believe in ourselves," he added. "We are not influenced negatively or positively about what happened in the past."