Champions League: Galatasaray's Didier Drogba ready for Chelsea reunion
Didier Drogba has admitted Chelsea still hold a special place in his heart ahead of Galatasaray's game with the Blues.
Last Updated: 26/02/14 8:08am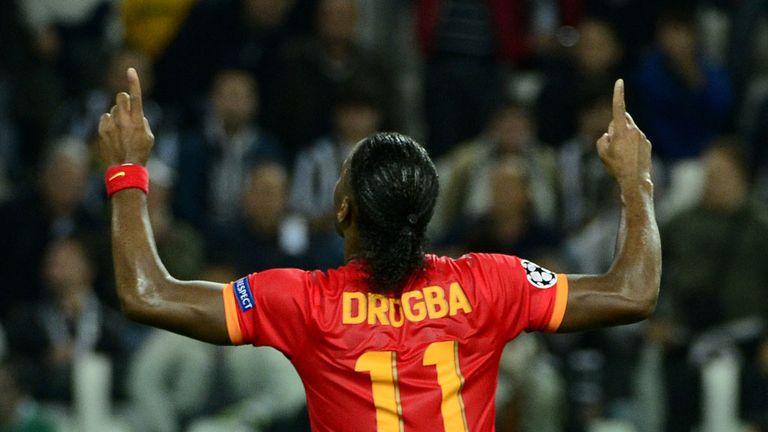 Drogba signed off a wonderful eight-year stint at Chelsea by scoring the winning penalty in the 2012 Champions League final, and is now preparing to go up against the Blues for the first time since that emotional night in Munich.
Galatasaray host Jose Mourinho's men in the first leg of their last-16 tie in Turkey on Wednesday evening and Drogba is looking forward to the reunion, insisting he will feel no guilt if he can inspire his Turkish club to victory.
"After the draw Jose texted me to say, 'it's your moment, enjoy it'," said Drogba.
"People know how much I love the club and the fans.
"I will still be happy to score because I also want to qualify for the next round. But you have to show respect."
He added: "I can't forget what I've done there and all the memories of the club. Chelsea will always have a special place in my heart. And in my life."
Drogba will turn 36 next month but he still feels he has a lot to offer and could prove a major threat in Istanbul.
"It's impossible to stop time but it's possible, with your intelligence on the pitch and your experience, to play at a high level even for two or three more years," added Drogba, who had a short stint in China after leaving Chelsea before joining Galatasaray last year.
"Your team-mates will know you are not the same, like 10 or 15 years before, and they have to support you.
"It also depends on the desire to play. I feel young. I want to play even when it's a friendly. I still feel like a kid running after the ball. I want to play as much as I can.
"It's not only about your physique, it's also about the confidence the manager gives you. When you have the confidence of the manager, believe me, you can do great things."
Drogba accepts that Chelsea still have a strong team and believes they will only get better under Mourinho, with the likes of Eden Hazard quickly becoming established on the world stage.
"We all had the potential but Jose is good at developing that," said Drogba. "With a player like Eden Hazard, if he listens to Jose, if he eats and learns what Jose teaches him, he can be really, really good.
"You need time to understand everything. The team have to develop, there are a lot of new players. But they are talented."
Drogba was brought to Chelsea by Mourinho in 2004 after beginning to make his name with Marseille, and is thankful to the manager for everything he did for him.
"The year that I left for Chelsea, it was the first time that I had been playing in the Champions League and my second year in the top French league, so I was not sure if I could make it," he recalled.
"Then this guy comes and says, "You have to come with me. I want to make you one of the best strikers in the Premier League".
"Imagine me. Of course I want to be one of the best. But I'm young. It feels like a risk. I didn't want to leave Marseille; I was the king. To stay would be the safe choice.
"But he (Mourinho) sold it to me. He said, "You are a good player but if you want to be the best then come and play for me".
"I was impressed. I saw someone who was really confident. And from what I saw with Porto, I thought maybe I should trust him. I wanted to be like one of the strikers he had had at Porto. So I decided that I would go for it.
"I learned so much working with Jose. He's one of the best, if not the best, of all the managers I've worked with.
"He educated us to hate losing. Sometimes, in training, you could play three or four games of five minutes without a goal. It shows you the intensity of training."
Galatasaray v Chelsea is live on Wednesday on Sky Sports 1HD at 7pm