Jose Mourinho set to face grilling over 'no Chelsea goalscorer' comments
Chelsea boss Jose Mourinho will face the press today and is expected to defend his comments about his lack of strikers.
Last Updated: 25/02/14 1:17pm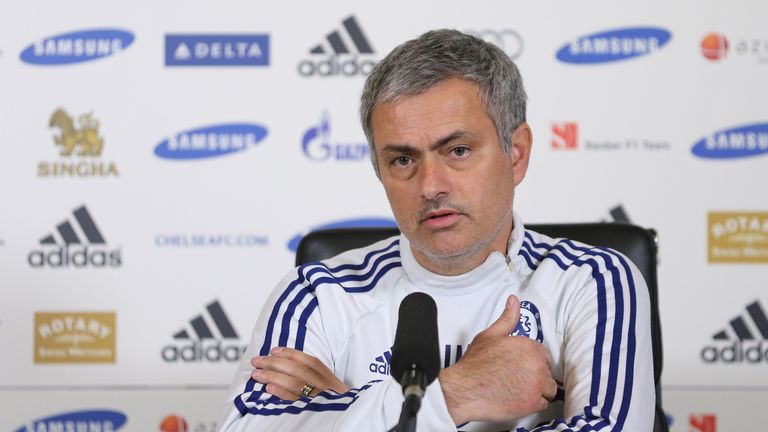 Mourinho was caught off camera by a French news channel saying that Chelsea cannot win the league because they do not have a goalscorer.
Sky Sports understand Mourinho is annoyed and irritated that his private comments have been made public and he is due to face the press around 1.30pm this afternoon - watch it live on Sky Sports News - to talk about their Champions League clash with Galatasaray.
His unguarded comments may be the main talking point, rather than the clash with the Turkish champions.
"Will we win the title? No, we don't have any scorer. Samuel Eto'o? He is 32-years-old, maybe 35," he told Canal+.
Mourinho was reportedly unaware he was being filmed as he conducted a private conversation with a Swiss businessman.
He went on to say that he needs to sign a striker and picked on Monaco's Radamel Falcao. "I need a striker and Radamel Falcao needs a club. A player like him cannot play in front of 3,000 people. Monaco are a club you end your career with."
The Blues boss may now have to launch a damage-limitation exercise in front of the press and back the three strikers he does have.
Chelsea will come face to face with their former frontman Didier Drogba in Turkey and the Galatasaray hitman has admitted Chelsea will always hold a special place in his heart.
Drogba signed off at Stamford Bridge by scoring the winning penalty in the 2012 Champions League final, and is now preparing to go up against the Blues for the first time since that emotional night in Munich.
"After the draw Jose texted me to say, 'it's your moment, enjoy it'," said Drogba.
"People know how much I love the club and the fans.
"I will still be happy to score because I also want to qualify for the next round. But you have to show respect."
He added: "I can't forget what I've done there and all the memories of the club. Chelsea will always have a special place in my heart. And in my life."
Drogba will turn 36 next month but he still feels he has a lot to offer and could prove a major threat in Istanbul.
"It's impossible to stop time but it's possible, with your intelligence on the pitch and your experience, to play at a high level even for two or three more years," added Drogba, who had a short stint in China after leaving Chelsea before joining Galatasaray last year.
"Your team-mates will know you are not the same, like 10 or 15 years before, and they have to support you.
"It also depends on the desire to play. I feel young. I want to play even when it's a friendly. I still feel like a kid running after the ball. I want to play as much as I can.
"It's not only about your physique, it's also about the confidence the manager gives you. When you have the confidence of the manager, believe me, you can do great things."
Watch Jose Mourinho's press conference live on Sky Sports News from 1.30pm..