Manchester City's Samir Nasri confident of Premier League success
Man City midfielder Samir Nasri has stated he is "not scared" of Chelsea as the Premier League title race heats up.
Last Updated: 04/03/14 9:15am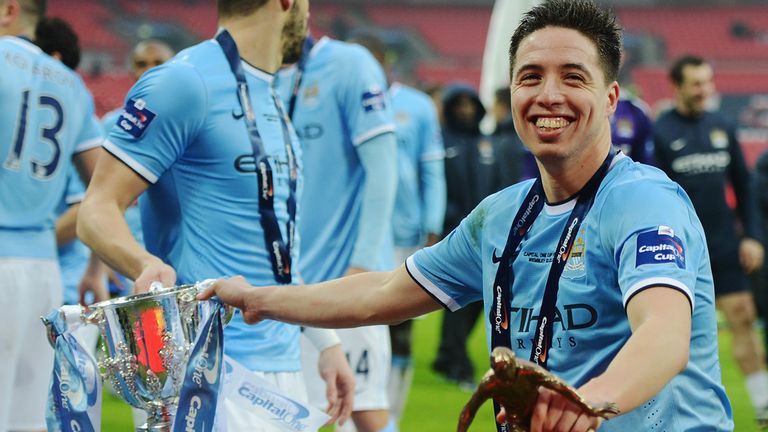 Jose Mourinho's Blues are currently four points clear of both Liverpool and Arsenal at the top of the league table with 63 points from 28 matches.
City are a further two points behind in fourth place, but have two games in hand and would reclaim pole position on goal difference if they win them.
Nasri insists that he is confident of his side claiming six points from those two matches, but admits that it is going to be tough to clinch the league title.
"I'm not scared about Chelsea or the league," the Daily Mirror quotes the 26-year-old as saying. "There is plenty more to play and everyone is going to have difficult games.
"If we win our two games in hand, we are going to be top of the league. But it's better not to talk and to act on the pitch.
"We're there in the league and if we win our two games in hand, we will be top with Chelsea.
"It's going to be tough until the end because Liverpool are still there too."
Meanwhile, Nasri believes team-mate Yaya Toure would be regarded as the world's best midfielder, if the Ivory Coast international did not hail from Africa.
Nasri added: "If he wasn't African everyone will say he's the best midfielder in the world.
"He can do everything, he can score goals, he can defend, he can attack.
"When he gets the ball he is so powerful. I might be a little bit biased because he's my friend, but he's in the top three of the best midfielders in the world.
"It counts against him being from Ivory Coast. If he was Argentinian or Brazilian everyone will talk about him, and they would pay £40-50million for him."