Premier League: Chelsea playmaker Eden Hazard should be fit for Spurs clash
Chelsea star Eden Hazard believes he will be fit for this weekend's Premier League clash with Tottenham.
By Kristof Terreur
Last Updated: 07/03/14 5:06pm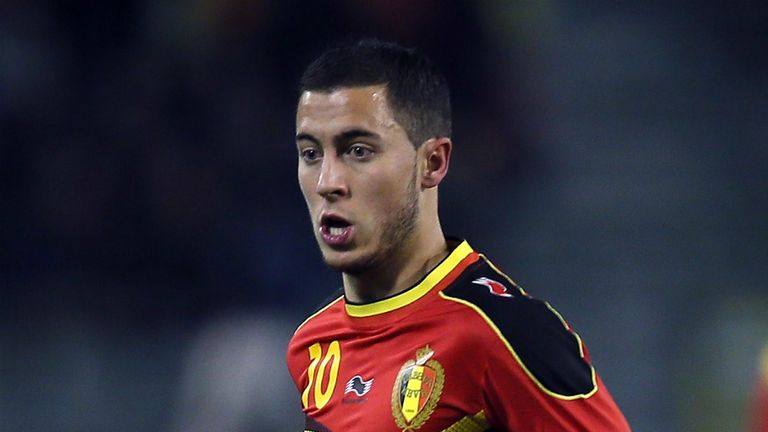 Chelsea have the chance to move seven points clear at the top as they are the only one of the top-four in action this weekend, as they host London rivals Tottenham at Stamford Bridge - a game you can see live on Sky Sports 1.
Hazard, though, picked up an ankle injury during Belgium's 2-2 draw with Ivory Coast - which has made him a doubt.
Hazard only came on just after the hour mark, but was caught by Newcastle's Cheick Tiote in a challenge.
Belgian boss Marc Wilmots confirmed the injury was not too bad and said: "His boot was damaged, but Eden hasn't twisted his ankle."
Hazard played on and completed the match, and he insists that he should be fit for the clash with Spurs.
"It hurt, but I think I can play this weekend," Hazard told Het Laatste Nieuws.
"After 20 seconds I got a kick. A nice welcome, but I'm not worried about the injury."
Hazard admits that he wants to start every match, but admits he does not want burn himself out.
"I'm not that tired. In the first half against Fulham I felt it a bit, but in the second I found my flow back. I don't need that much rest, I'm at my best when I can play a lot of games. But I've to be careful that I don't burn myself.
"I'm in super form. Something you see in the stats and in my consistency. I see similarities with my last season in Lille."
Mourinho
Chelsea coach Jose Mourinho believes Hazard is one of the best player's in the world, and has hailed his recent form.
"Mourinho and I have a normal relationship. He says things straight in your face and I like it. They may call him The Special One, but for me he's the Normal One," said Hazard - who insists he still has some work to do to be one of the best in the world.
"He calls me the best player of my generation and it is a huge compliment. I try to be my best. With periods I can be the best of my generation, but there will be periods when others will be.
"I still have some work to do, I have to score more goals, have to give more key passes. What I'm doing now, but then twice as much.
"The five top candidates for the Ballon d'Or score all the time. I hope to achieve their level one day."