Premier League: Jose Mourinho delighted with Chelsea's solid back four
Jose Mourinho heaped praise on his in-form Chelsea defence after another clean sheet in the 4-0 win over Tottenham.
Last Updated: 09/03/14 1:37pm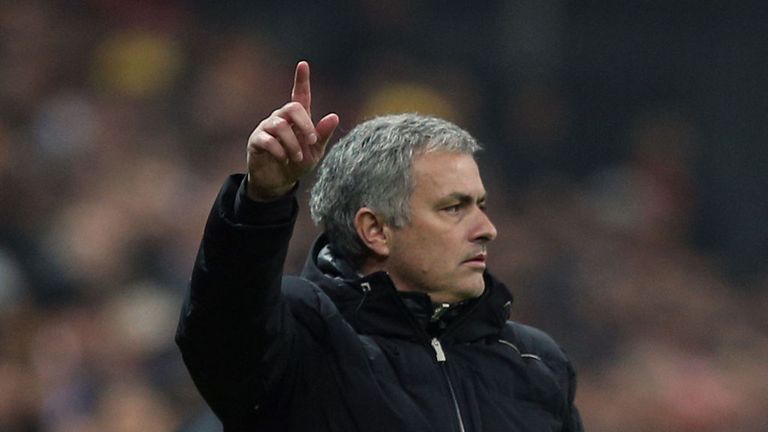 Petr Cech was unbeaten for the seventh Premier League game in 10 as the Blues extended their lead at the top of the table to seven points.
Although Mourinho again said he did not think his side should be considered favourites for the title - Manchester City are nine points back with three games in hand - he was more than willing to wax lyrical about his current back four.
Mourinho has settled on Branislav Ivanovic, Cesar Azpilicueta, Gary Cahill and captain John Terry as his favoured defensive option since Christmas, with Azpilicueta reserved for special praise.
"We work, we prepare matches, we analyse opponents. You try to find the best balance," Mourinho said.
"Defensively you try to make a shape, you try to find a balance. I like Ivanovic playing right-back more than as a central defender.
"I like a lot the stability of Cahill and the understanding of Cahill with John.
"And I think at this moment Azpilicueta is unbeatable. For many, many matches I haven't seen one player beat Azpilicueta in an individual duel.
"The team is compact, we have a good balance, we are playing well defensively.
"We were all calm. No mistakes, no defensive mistakes. They had control of the ball and of the game but they didn't scare us. That's a good feeling.
"We were very mature. You have to cope with what the game has to give you and sometimes the game gives you a fantastic game, sometimes the game gives you a difficult game and we coped very well with a difficult first half.
"When you are not on the top of your game, but you feel they are not very dangerous, keep calm and you wait for your moment."