Drogba watch
The long-term cruelties of age and time meant there was no fairytale return to Stamford Bridge for Didier Drogba as Chelsea defeated Galatasaray 3-1 on aggregate to progress to the Champions League quarter-finals. Peter Fraser analyses the striker's night
By Peter Fraser - Follow me on Twitter @SkySportsPeteF
Last Updated: 18/03/14 10:56pm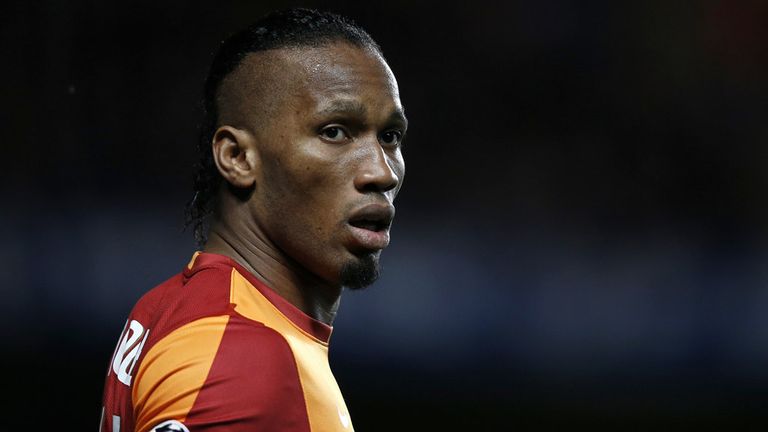 Forty-four seconds. That was the time between Didier Drogba's first touch and Chelsea's opening goal at Stamford Bridge. Wind the clock back a couple of years and that would not be an uncommon occurrence but, unfortunately for Galatasaray, the Ivorian was not on the goalscoring team on Tuesday night.
Drogba, the legendary striker who won 10 trophies in eight years with Chelsea - including the UEFA Champions League with his final kick for the club in 2012 - made an epic return to his former home in the second leg of this season's last 16 of the European Cup.
It was an emotional occasion for the man himself, his former boss - Jose Mourinho, who had been eulogising in his pre-match media conference - and fans who still adore the player who first permanently arrived in London from Marseille in 2004.
However, as demonstrated by the difference from Drogba's first touch of the night after two minutes and 36 seconds to Samuel Eto'o scoring following three minutes and 20 seconds, it was not the fairytale night for which he would have hoped.
As are the long-term cruelties of age and time, and as was always going to be the case, Drogba, who was presented with a silver boot by Chelsea chief executive Ron Gourlay when on the pitch with his son in the pre-match warm-up, looked every bit the 36-year-old he now represents.
He no longer possesses the sprinting power of a runaway train which was a trademark of his prominence in England and, as a result, his former team-mates of Branislav Ivanovic, John Terry, Gary Cahill and Cesar Azpilicueta could hold a high defensive line, congesting midfield, while safe in the knowledge the opposition would not be running in behind.
That meant Galatasaray could only lump aimless long, straight and diagonal balls and Drogba was forced into a battle of aerial strength with the imperious Terry. After the half-hour mark, including just once flooring Terry in the centre circle, Drogba had won only 30 per cent of his 10 overall duels. In the air, he had won a lowly 33.3% of six duels.
In the 36th minute, there was opportunity for Drogba to showcase another one of his skills for which he was previously famous with a free-kick approximately 25 yards from goal. But never mind the back of the net, it was only the 'Drogba Legend' banner, which can so often be seen hanging from the second tier of Stamford Bridge, which felt the impact.
Drogba, whose aerial ability in earlier years made him such an excellent defender at set-pieces, was then helpless and blameless to prevent Chelsea's second goal before half-time, when he was isolated in man-marking Ivanovic at a corner, Terry was allowed a free run and header, and Cahill finished the follow-up.
At half-time, Drogba had seen plenty of the ball, touching it 22 times, but he was being kept at arm's length by Chelsea - who knew he could not cause damage from long range - and he had managed just two shots, neither of which were on target. Likewise, Galatasaray as a team had not troubled Petr Cech in the Chelsea goal in the first half. Drogba had also continued to come off second best against the Chelsea defence in having won only 38.5% of his 13 duels.
Drogba, though, was not helped by his ineffective attacking team-mate, Burak Yilmaz. The Turk was excellent in scoring eight goals in last season's competition, which was only less than Cristiano Ronaldo and Robert Lewandowski, but, at the break against Chelsea, he had touched the ball only 11 times and he and Drogba had linked up on only one occasion - a very short pass inside the corner of Chelsea's penalty area.
That was the story of Drogba's match. Now he no longer has his speed, he relies on the service of his team-mates. This was epitomised in the opening minutes of the second half when he looked to the heavens, having again peeled off to the right-hand side of the penalty area as he did frequently throughout the game, and an attempted ball from former Arsenal man Emmanuel Eboue was intercepted.
Shortly after the hour, there was a reminder that Drogba is of course also no saint as a slightly theatrical reaction to running into Ivanovic earned the defender a booking, while a shoulder pull and trip on Azpilicueta a few minutes later resulted in a yellow card for the African, who looked tired and frustrated.
Drogba finished the game having not improved on his two off-target shots in the first half. Meanwhile, only Chelsea's Eden Hazard had been involved in the same total of 23 duels but the latter won 69.6% while the former won just 34.8%. It had all been a bit friendly and Cahill, Ivanovic, Azpilicueta and, in particular, Terry were too strong and too good.
But it was again not all to do with age and time as Drogba was still not aided by a Galatasaray team who went out without so much as a whimper and not a single shot on target in the game, continuing their wretched away record in Europe - where they have not won on their travels since last season's last 16 second leg at Schalke.
Drogba was isolated and let down by the service of his team-mates, including the surprisingly ineffective Wesley Sneijder. Even in time added on before the final whistle, when Drogba had his big chance, he snapped at a volleyed opportunity from a free-kick delivery. It summed the game up.
Like an elderly relative, it is best to remember Drogba's younger, earlier days. The player who scored 157 goals in 341 appearances for Chelsea has of course aged and is no longer capable of his previous best. In truth, and for all the nostalgia, few expected anything else, especially when playing in this Galatasaray team.