International news: Belgium boss Marc Wilmots likens Eden Hazard to Zinedine Zidane
Marc Wilmots has likened Eden Hazard to Zinedine Zidane but says he must become more prolific for Belgium.
By Kristof Terreur
Last Updated: 19/03/14 8:52pm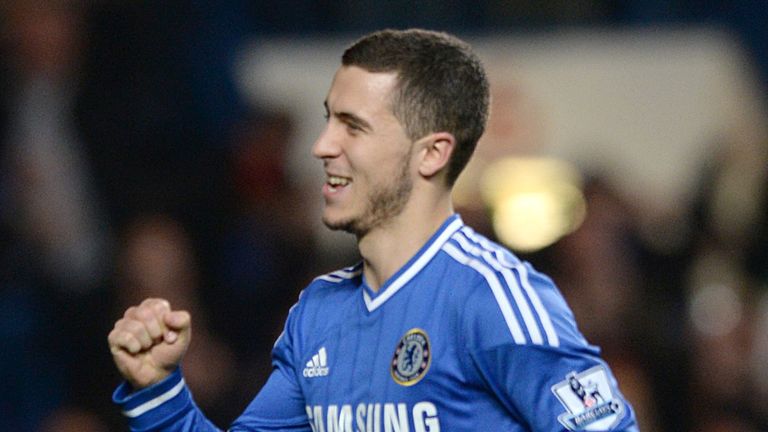 The 23-year-old has an impressive domestic record, netting 14 goals in all competitions for the Blues so far this season, but he has just five international goals to his name.
Hazard has enjoyed an outstanding Premier League campaign, helping his Chelsea side take pole position in the table, and Wilmots believes there are similarities in his game with France legend Zidane.
"Eden's confirming it this season. Jose Mourinho has put some pressure on him, now he's praising him," he said.
"I've once played a charity game with Zinedine Zidane. It was crazy. The ball was a part of him: nothing was impossible.
"I've the same feeling when I see Eden playing. He's so valuable.
"When he has the ball, you know he's not going to lose it. You know the team has a moment to breathe again."
Wilmots, who is preparing to pick his Belgium squad for the summer's World Cup, is the country's leading goalscorer and he has challenged Hazard to emulate him in front of goal and warned him against complacency.
"Eden knows what I expect from him. I don't tolerate one moment of loosening," he said.
"If I feel one day, his state of mind is not right, I will do it without him," he said.
"But to be honest, he has to improve his stats in the national team. Where is he now? He has scored 5 goals, two of them were penalties, in almost 50 games.
"That's not enough. I wasn't as talented as he was, but I've scored 29 goals for Belgium. I love Eden, but I ask him to be more decisive."