Champions League: Eden Hazard wants to come up against Real Madrid or Barcelona
Eden Hazard insists he needs to face the likes of Cristiano Ronaldo and Lionel Messi if he wants to get to their level.
Last Updated: 21/03/14 11:24am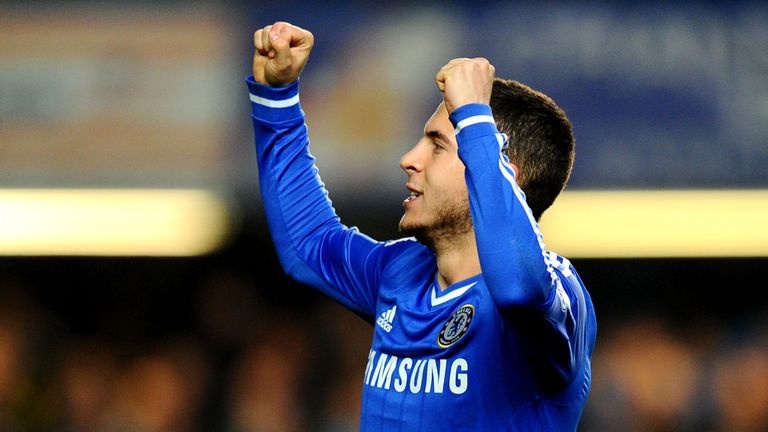 Jose Mourinho has already described the Belgian winger as the best young player in the world, and feels he will soon be at Ronaldo and Messi's level.
Hazard insists he is still some way off that mark, but is hoping that Chelsea will come up against Barcelona or Real Madrid in the Champions League.
"For me, for a young player, it's very important to test myself against Ronaldo or Messi," Hazard told the Daily Telegraph.
"Just to be on the pitch with them would be good and I would try to do well.
"It's an aspiration for me to be as good as Ronaldo and Messi. I watch a lot of games they play in and I try to be on the same level.
"I want to score more goals. Sometimes I play good but don't score. To be the best player in the world I have to score more.
"It's just in my head - I have to shoot more. I can make the pass, I can shoot and sometimes I pass.
Hazard admits that he has becoming the world's best player in his sights.
"Of course, I want to be the best in the world," he said.
"Previously I was more worried about the game itself - football was just a game for me, I wanted to amuse myself and didn't bother what the people thought about me. But since I'm here at Chelsea I've become more aware of my qualities.
"Before I knew I was a good player, but not one of the better players in the world. Now I realise that I can compete with Messi and Ronaldo in the near future, if I put in some more effort. I don't know if I will ever reach their level. It'll be hard, but I accept the challenge."
Hazard believes that Chelsea are in good shape ahead of the Champions League draw on Friday - which you can see live on Sky Sports News from 11am.
"Tuesday was a good night because we are qualified. We played very well and we deserved to win.
"It was very important for the fans, for us and for the manager.
"And it's important for the club. A big club wants to win the Champions League every year. Last year it was Europa League but this season we want these big trophies.
"But every game is difficult - the Champions League is the best competition in the world. For only my second season for Chelsea it is all very good."
Follow the draw for the last 16 of the UEFA Champions League live on Sky Sports News, skysports.com and the Sky Sports apps. Coverage begins at 11am.