Premier League: Jose Mourinho praises Arsenal's 'fantastic' faith in Arsene Wenger
Chelsea manager Jose Mourinho praised Arsenal as a 'fantastic club' for supporting Arsene Wenger through 1,000 matches.
Last Updated: 22/03/14 12:18pm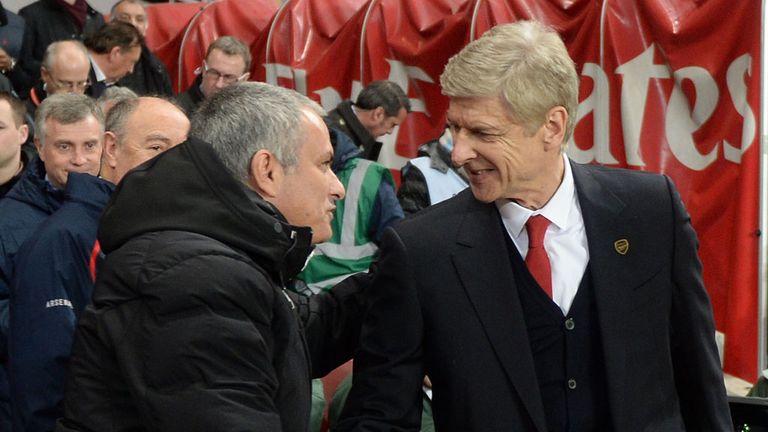 But the Blues boss also said such support was necessary when there had been 'quite a lot' of 'bad moments'.
Wenger will take charge of his 1,000th Arsenal game when the Gunners travel to Stamford Bridge on Saturday lunch time in what is a key game in terms of this season's Premier League title race.
The relationship between the two managers is an uneasy one, with Mourinho last month describing Wenger as a "specialist in failure" after the Frenchman commented that anyone ruling themselves out of the title race was doing so out of a fear of falling short.
And the Portuguese again made a comment about Arsenal's trophy drought, which stretches back to 2005.
"I admire him and I admire Arsenal, because it's not possible to have 1,000 matches unless the club is also a fantastic club in the way they support the manager, especially in the bad moments and especially when the bad moments were quite a lot," Mourinho added.
Mourinho insisted his personal record against Wenger was incidental as matches pit team against team, not manager against manager.
"It doesn't matter," Mourinho said. "It's not against him. It's Chelsea against Arsenal.
"I didn't even play Arsenal with Inter Milan or with Real Madrid or with Porto, I just played with Chelsea.
"It's Chelsea-Arsenal, Arsenal-Chelsea, it's not me against him.
"Records don't play any role. A match is a match. It's not coach against coach, it's team against team."
Mourinho has taken charge of more than 200 Chelsea games but was controversially sacked in September 2007 before returning to Stamford Bridge in the summer.
"The tribute (to Wenger) is to say that I believe that, any one of us, we would love to have the same privilege with our clubs," Mourinho said.
Chelsea will be without Ramires, who is banned for three matches and Willian, who misses one, after both were sent off in the defeat at Aston Villa last week.
Also absent is former Arsenal left-back Ashley Cole (knee), but Nemanja Matic and Mohamed Salah are available after being ineligible in Europe in midweek.