Premier League: Andre Schurrle praises Chelsea's perfect plan against Arsenal
Andre Schurrle has expressed his delight that Chelsea were able to execute their game plan perfectly against Arsenal.
Last Updated: 24/03/14 9:25am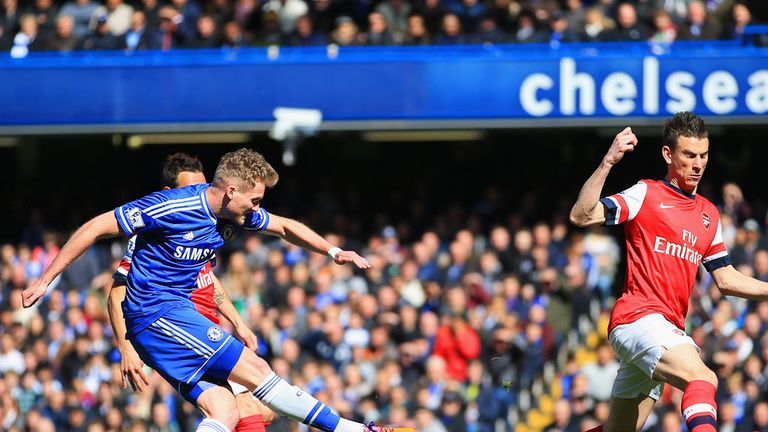 Schurrle scored the second goal in a 6-0 victory as Jose Mourinho's side produced a devastating display of counter-attacking football to hammer their title rivals at Stamford Bridge.
The German winger says Chelsea anticipated how Arsenal would play and was thrilled that they were able to take advantage of the weaknesses they had identified.
"We knew their full-backs are very offensive and go forward a lot," Schurrle said, quoted in The Sun.
"And when they lose the ball you have the chance to take advantage of the transition because they leave a lot of space.
"We wanted to use it. We had a lot of very good transition and we did it. That was our plan.
"We knew there would be a lot of space and I wanted to use that.
"I got good balls before the first goal from Oscar and then Nemanja (Matic).
"It's very important the balls are coming when the space is there and I make the run. It was perfect."
Schurrle admits the margin of victory was a surprise but appreciates that there is still a long way to go in the title race.
While Chelsea's victory kept them four points clear of Liverpool at the top of the table, third-placed Manchester City only trail by six points and have three games in hand.
Schurrle said: "I've played in derbies before - but never a 6-0.
"So to do that in a big London derby, in the title race, was a great, great feeling.
"There are seven games left and a lot can happen. We have to keep focused and keep winning.
"It's Palace next week, another London derby, that we have to win. That's what we are thinking about.
"But it's a fact that if City win every match, they are champions."