Vitesse Arnhem are keen to retain their own identity amid close ties with Chelsea
Dutch side Vitesse Arnhem are keen to retain their own identity amid close ties with Chelsea.
Last Updated: 29/03/14 1:17pm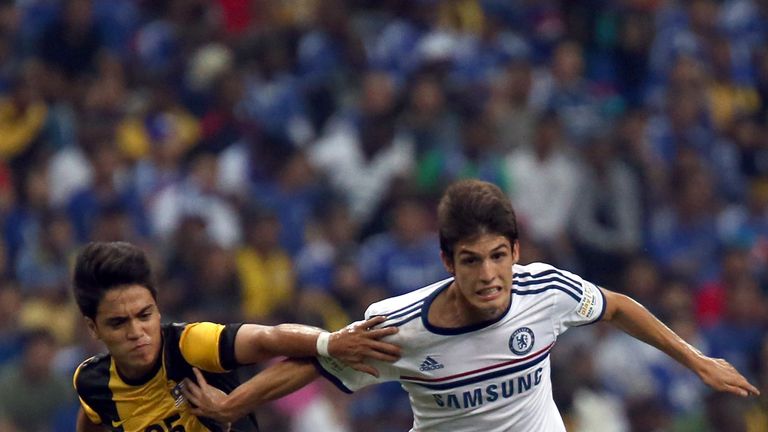 The Eredivisie outfit have had seven Blues players on loan this season - including Lucas Piazon - leading some to dub them 'Chelsea 2' or 'Chelsea B'.
The link between the two clubs was established after Merab Jordania, a friend of Chelsea owner Roman Abramovich, took over the Dutch side in 2010, while Russian billionaire Alexander Tsjigirinski now owns the club.
Vitesse's technical director Mohammed Allach has welcomed the relationship between the sides, but dismissed a suggestion the Dutch outfit could follow the route of Watford, who last season took loan signings running into double figures from other clubs controlled by their owners, the Pozzo family.
He told the Daily Mail: "That's too much. Then, you can consider yourself a second team. That's not us.
"You have to keep your own identity. That's what's so beautiful in this relationship, we respect each other's identity."
Identity
Chief executive Joost de Wit was also keen to emphasise the club's identity, citing the players coming through the Vitesse Academy.
"From 32 players, we currently have five from Chelsea and eight from our Academy which I think means we keep our identity quite well.
"We are committed to our own players but Vitesse fans don't care where a player comes from. If you wear yellow-and-black and score like Lucas Piazon did in our derby, you are very popular.
"We like to feel we are the boss here and we are, but we respect our co-operation with Chelsea. You would be a fool not to, because it brings us so much."
Head coach Peter Bosz also praised the relationship with the Blues, saying: "They don't put pressure on us or ask us to do things we don't like, not at all, I mean that.
"They explained how they worked and what they expected. I tell them positions where I'm looking for players, they tell me what they can do for us and we look at whether it's possible.
"Once we agree for a player to come to us, I have to develop him and in the end we hope they are good enough for Chelsea. They are not saying I have to play them, or I have to play this kind of way.
"I'm the coach and I decide. But of course we work together."