Champions League: French police confirm no arrests after Paris trouble
French police have confirmed no arrests took place during an incident involving Chelsea supporters in Paris.
Last Updated: 03/04/14 5:01pm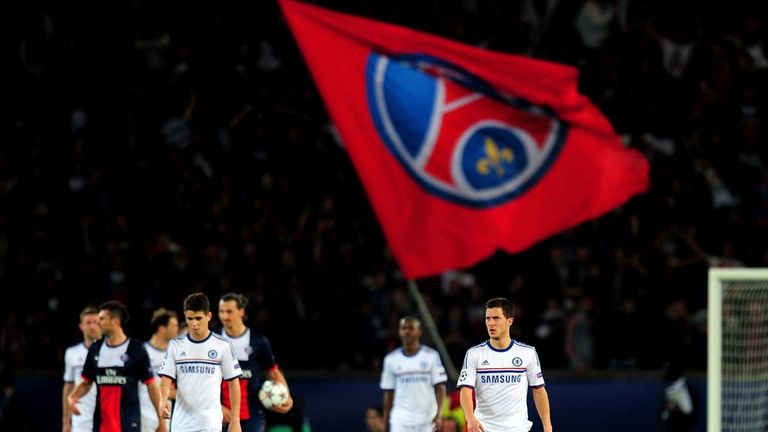 It has been confirmed that one person was 'lightly injured' in the incident, which according to police reports lasted 'one-and-a-half minutes'.
Early reports claimed around 400 Chelsea fans were involved in the disturbance, which took place in one of Paris' most popular tourist streets, Rue St Denis.
Malcolm Clarke, chairman of the Football Supporters' Federation, stressed the need for fans to respect the local culture when travelling abroad and highlighted the vast decrease in trouble caused by British fans in the past 20 years.
"I can't really comment on the Chelsea situation because I don't know the details of it but we always advise fans to be very aware of the local circumstances and if there are any risks there," Clarke told Sky Sports News.
"You have to understand the local culture because some types of behaviour that might be acceptable in this country are not acceptable elsewhere.
"So it's a question of being sensible, streetwise and respecting the culture of the place that you're visiting.
"But I think it should be celebrated that the amount of trouble we've had from English fans abroad has hugely decreased in the last couple of decades and continues to do so."
The FSF has produced a supporters' guide to Brazil in time for this summer's World Cup and Clarke urged anyone planning to visit the tournament to obtain a copy.
"Our chief executive has just come back from an advance visit to Brazil and we will be producing a fans' guide for people travelling to Brazil that will give information about travel and local cultures.
"People need to be sensitive to things like that. It's packed with hard information and good advice and our best advice is to get hold of that if you're going to Brazil."
Although the Parisian police played the incident down, Damien, a salesperson for a sports store, claimed there was considerable damage caused as around 300 fans exchanged blows.
He told Sky Sports News: "What happened is there was a huge fight between hooligans, the Parisian clan and the Chelsea clan, they fought it out in front of our store.
"They smashed the store, the terrace, the bar opposite me, they threw everything. It was quite distressing. It was quite frightening as well when all the men were fighting.
"It was like the films, there was blood. There were 300. We didn't have time to pack everything up and sadly they fought each other just in front of us. And there we go. They smashed up the store."