Premier League: Eden Hazard believes Chelsea are losing too many points to teams below them
Eden Hazard believes Chelsea have dropped too many points against teams below them in the Premier League standings.
Last Updated: 05/04/14 12:56pm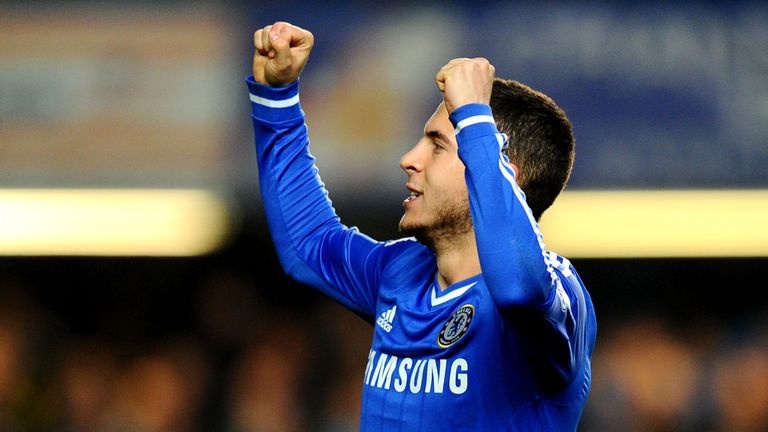 Jose Mourinho's side endured a shock 1-0 defeat at the hands of Crystal Palace last weekend, handing a blow to their title chances.
Their reverse at Selhurst Park saw them slip two points behind Liverpool at the Premier League summit, while Manchester City are just two points behind with two games in hand.
Chelsea endured a 3-2 defeat to the Potters in November, although they gained a measure of revenge in the FA Cup fourth round. Now, however, Hazard believes the Blues can no longer afford to drop points.
"We've lost too many points on games like Stoke this season and to have any chance of being champions, we don't have that luxury any more," he told The Sun.
"We are not the only big team to have lost to Stoke. They are a very complicated team to play against.
"They have very good qualities and still have a lot of big players playing a lot of high balls, which might not be the best type of game for Chelsea."
While acknowledging the threat of Stoke, Hazard insists the Blues are responsible for their own performances but believes City and league leaders Liverpool are experiencing the most pressure.
Pressure
"It's our job to keep the ball and play our game and take the three points," he added.
"It was very important for us to make a big impact after the loss at Aston Villa and we did that. But then we were beaten at Palace.
"We cannot keep doing that. But the pressure is on City and Liverpool to keep winning."
Despite refusing to get too far ahead of himself thinking of this summer's World Cup, Hazard has revealed he does keep a keen eye on his Belgium team-mates plying their trade in the Premier League.
"I watch them all the time but it's nothing to do with the World Cup," he claimed.
"I have very good friends in the Belgian team and in any year I would still watch them play. We have an amazing squad.
"There is a good dynamic between us and the only question mark against us is that it's our first big competition, our first World Cup together."
Strong group
Belgium's World Cup hopes suffered a blow with Aston Villa striker Christian Benteke being ruled out for six months and Hazard insists it is important for players to avoid injury in the closing stages of the season.
Hazard also revealed his sympathy for compatriot Marouane Fellaini who has suffered a turbulent first season at Manchester United following his switch from Everton.
"Hopefully we will do very well but the first thing is for everyone to have a good end to the season with their clubs and avoid any injuries," he said.
"We are a strong group of friends - we meet up sometimes during the season. But I'm probably closest to Marouane Fellaini.
"It has been difficult for Marouane at Manchester United but it is not an easy year for him because it's a transition where he has changed clubs."
Hazard is a strong advocate of the English structure, claiming more game-time is the best form of development.
"I always said for me, the best training is to play as much as possible, which is why England is so good," he said.
"You are playing every three or four days and you have a lot of games in a short space of time. That is very good."