Premier League: Chelsea's Petr Cech waiting to see if Liverpool will wilt under pressure
Chelsea goalkeeper Petr Cech has questioned whether Liverpool can handle the pressure of leading the title race.
Last Updated: 15/04/14 11:54am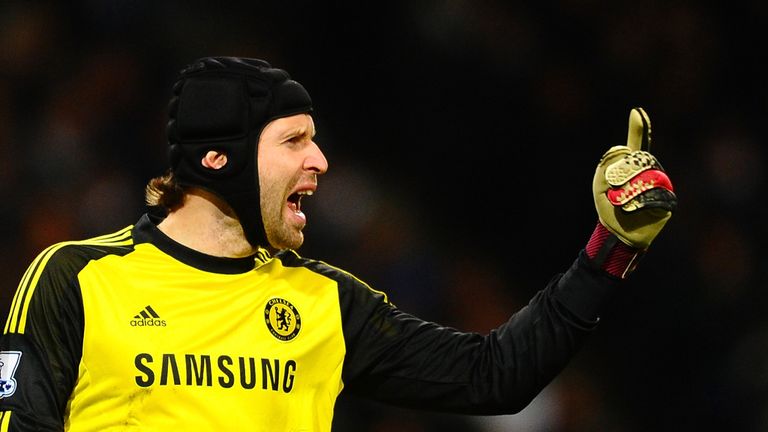 Liverpool are two points clear at the top of the Premier League after Sunday's thrilling 3-2 win over Manchester City at Anfield.
Ten straight victories have propelled Brendan Rodgers' men past their rivals, leaving them just four games away from a first title triumph since 1990.
But one of those games is against Chelsea at Anfield on April 27 and Cech is waiting to see if Liverpool can maintain their red-hot form, with the burden of expectation on their shoulders.
"No-one expected anything from Liverpool and they are in contention and that is why they play without pressure so far, but let's see how they are going to cope when it comes to the last hurdle," said Cech.
"They will have to jump over it and they have been doing remarkably well. We have things in our hands. We need to wait for one slip-up from Manchester City, but if we win our games we have a chance.
"At the start, everyone has 38 games to have the most points and I don't think at the end of 38 games it is a question of luck. The one who gets the most points obviously deserves to win the title, so we will see who it will be.
"It is great to put ourselves in a situation where we know we have a chance. So we will go for it. If we win all of our games, right at the end we will be in contention."
Chelsea's title run-in will be punctuated by two legs of a Champions League semi-final against Atletico Madrid, with the second game scheduled for three days after they face Liverpool.
But Cech is confident that his team-mates can cope with the hectic finale to the season.
"We have two huge games in the Champions League and there will be a little bit of congestion, and that is the way that it is," he said.
"It is always good to be in a position where you play for everything during April and May. It is why it is so exciting."
While he welcomes to the busy climax to Chelsea's season, Cech has accused the domestic football authorities of doing nothing to help their Champions League campaign.
He said: "In the last few years we have been saving the English coefficient in the Champions League and we never get any help in terms of the schedule from the authorities.
"The Germans always play on a Friday and the Italians on a Friday. Atletico will play on Friday to make sure that they are ready to keep the glory of the La Liga in the Champions League. Our authorities should do the same."