Champions League: Eden Hazard is in a race against time to be fit to face Atletico Madrid
Eden Hazard will need to return to full training quickly if he is to be considered for Tuesday's Champions League match.
Last Updated: 22/04/14 6:52pm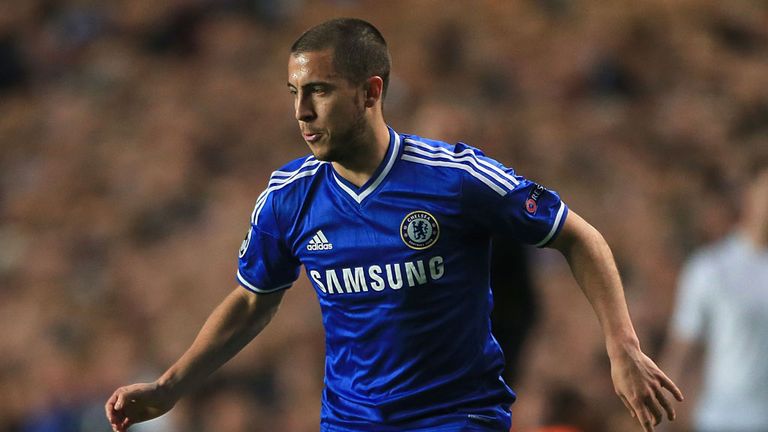 The 23-year-old Belgium forward will miss Saturday's Premier League clash at home to Sunderland due to a calf problem.
And Holland says Hazard is now facing a race against time to be fit for the trip to Spain.
"He hasn't trained yet but that doesn't definitely rule him out of the game on Tuesday," said Holland.
"He's obviously close but it's a day-by-day one at the moment. For him to be considered for Tuesday, he obviously needs to train with the group very quickly.
"Normal procedure is that you wouldn't ask a player to play in a game without some training beforehand, so he's got to train with the group in the next couple of days.
"He has got a calf injury and the injury is very low on the calf.
"Normally, if I said calf to you, you would think of that bulge just below your knee. It's lower than that, almost at the back of the Achilles, and it's quite deep. So, it's an unusual calf injury."
Chelsea have another crucial match at Liverpool a week on Sunday, which could have an impact on whether Hazard features in Spain.
"The consideration would be what's best for the individual, first and foremost," said Holland.
"If we can give him a better chance of being involved for Sunday, then that would be the criteria that we would work to."
Hazard pleasing Chelsea
Hazard has been announced as a nominee for the PFA Player of the Year award and Holland added: "Eden has made outstanding progress this season.
"There are only three things a player can do when you get down to the nitty-gritty - make goals, stop goals, score goals. There's nothing else, it's one of those three.
"I think this year he's improved at stopping goals and he's improved at making and scoring goals.
"Of course, he's only a young man. It was his first year in the Premier League last year.
"You would hope there would be an improvement this year, and then again next year. He's had a major impact on our season to date."