Champions League: Jose Mourinho backs Fernando Torres to fire against Atletico
Jose Mourinho has the utmost respect for Atletico Madrid ahead of the first leg of their Champions League semi-final.
Last Updated: 22/04/14 6:50pm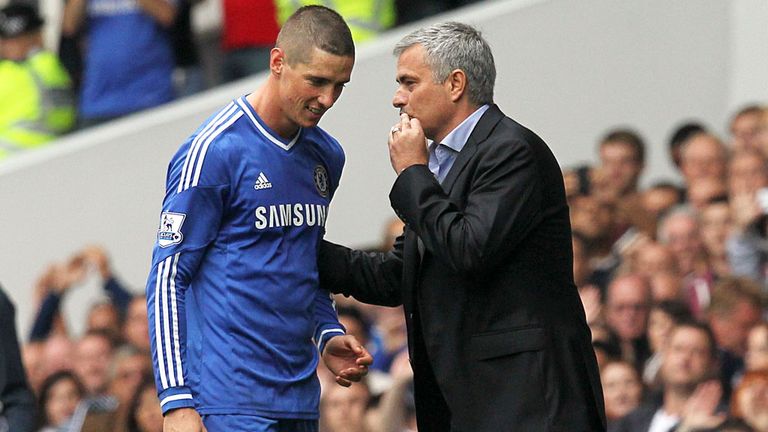 Chelsea face the Spanish league leaders in Madrid on Tuesday night and, in the absence of Samuel Eto'o, Mourinho expects Fernando Torres to shine against the club where he made his name.
"I spoke to my team about their qualities and they are a team we respect," said Mourinho. "No team arrives at this stage without being a very good team and Atletico are no exception.
"To reach the Champions League semi-finals and to be fighting for the Spanish title, you must be a special team. I have watched them play lots of times, I studied them a lot and tried to make my players ready for what they can do.
"Every player and manager wants to play in the Champions League semi-finals. It is a big motivation for every player and they want to play. Everyone who is fit will be full of motivation."
Torres is expected to feature against his former club where he scored 82 goals over six seasons before his move to Liverpool in 2007.
Mourinho has no doubt that the striker will be able to perform at his best in a stadium where he is still venerated.
"The minutes he is on the pitch he is going to try everything for Chelsea, like the professional he is," said Mourinho.
"I am not saying that Fernando Torres will start, I am saying that he never hides. We feel that every day.
"We talk about Spanish football and he's a big Atletico supporter, but he's a professional."
Atletico coach Diego Simeone played with Torres during his time in Madrid - and was full of praise for his former team-mate.
"Fernando is a lad who loves this club, his club," he said. "These are his people. He always remembers us, he always keeps us in mind, he always asks after us. He is from here: deep down he is one of us. He will always be an atlético wherever he is, whoever he plays for."
Mourinho would be not be drawn on the fall-out after Sunderland ended his 77-match unbeaten home league run in a tumultuous match on Saturday night.
"Chelsea today and Tuesday is the Champions League and we are only available to speak about Champions League," he added.
"We are lucky to be involved in the Champions League, so we are lucky that in the next two days we don't think about the Premier League and what's happened and what is going to happen because now we only think about Tuesday."
Asked how important it is that his players, his staff and he himself keep their composure on Tuesday, Mourinho insisted: "We always behave in relation to the situation."