He's done it before
Chelsea's goalless draw away to Atletico Madrid in the first leg of their Champions League semi-final wasn't always pretty but it was pretty effective. Adam Bate was at the Vicente Calderon Stadium to see Jose Mourinho infuriate his old rivals...
Last Updated: 23/04/14 11:04am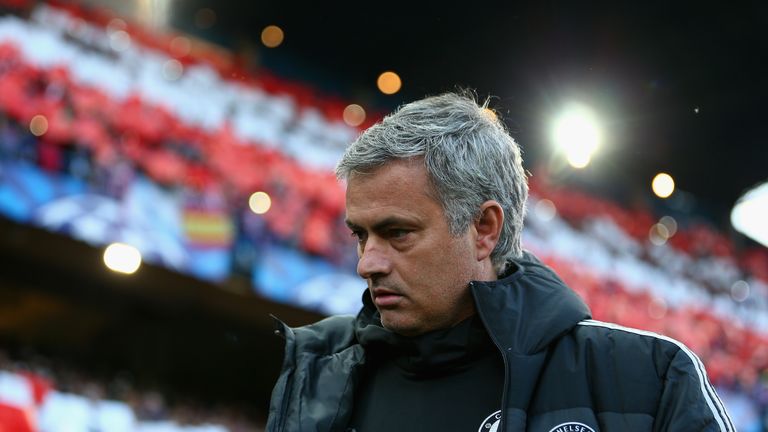 In the mould of their manager, Atletico Madrid are a savvy side. A talented team but also one that has made great capital out of unsettling both Barcelona and their famous city rivals, Real Madrid, in a spectacular season. In short, Atletico are horrible to play against.
But against Chelsea in Tuesday's UEFA Champions League semi-final first leg, it was Atletico's turn to be frustrated. This time Diego Simeone and his players were the ones being stifled. This time they were the ones not being able to play their normal game.
In the build-up to the clash, it was Jose Mourinho and his staff under the spotlight after Rui Faria's extraordinary outburst against Sunderland. "Atletico can get under their skin and when they do, prepare for the very worst," wrote Neil Ashton in the Daily Mail. "This rowdy bunch are human grenades and someone has taken out the pin."
It was a plausible if somewhat dramatic argument. Mourinho has form with Atleti. Simeone's assistant, German Burgos, even once threatened to rip his head off. But there was no sign of Mourinho's histrionics here, even in the cauldron of the Calderon. Instead, he was a picture of calm while Simeone played to the galleries. It was Mourinho who got under Atletico's skin.
The Chelsea boss was an animated figure in his technical area, but his primary focus appeared to be the shape of his team. There he was urging Cesar Azpilicueta to close down, bellowing at Andre Schurrle to get back goal side of the ball. Simeone was left to conduct the crowd and bemoan the performance of the referee.
The Argentine had clocked on to the timewasting tricks remarkably early. One after the other, Chelsea players went to ground. Mark Schwarzer seemed to take all 41 years of his age over goal-kicks, while Azpilicueta's long throws took more of the sting out of the contest. "Jose Mourinho, hijo de puta," came the chant in response to every decision, every tactical foul, every substitution, as though he was the boogeyman incarnate. And the 'son of a *****' got his draw.
"We played a solid game," Mourinho told Sky Italia afterwards. "We frustrated Atletico, whereas normally they're the ones who frustrate others. Atletico needed to win this game, and we stopped them from doing it. I told our players not to keep the ball too much, because Atletico press well."
It's not the first time we've heard Mourinho talk of this urge for his teams to rid themselves of the ball. That was the plan when his Inter Milan side stunned Barcelona back in 2010. But that Barca vintage held claim to being the greatest in a generation. Playing possum against an Atletico team with a vastly inferior budget might not have been part of Roman Abramovich's vision. Just 31 per cent possession with less than half the number of passes tells its own story.
The home side managed 25 shots to Chelsea's five, too. But Mourinho can point to the fact that when it came to shots on target, Atletico's tally was a mere four. His defensive rearguard action restricted Simeone's side. Only Barcelona have kept a clean sheet at the Calderon in La Liga this season and nobody, including Barca, had managed it in Europe. It wasn't pretty, but it was pretty effective.
"We didn't start the game thinking of a 0-0," added Mourinho. "But the game goes in a certain direction where you feel you have to be safe, don't concede and try to score in one of the few chances you create. We had problems before the game, we had problems during the game, we lost four players during the game, two with injuries, two with yellow cards, but we will fight."
He had a point. Without their best striker, Samuel Eto'o, and best player, Eden Hazard, before the game, Chelsea also lost goalkeeper Petr Cech in the first half and captain John Terry in the second. Like the villain who skulks off in the final scenes of a movie, Mourinho was just happy to live to fight another day.
"Jose Mourinho, son of a *****," they continued to chant beyond the final whistle. But as their screams died down and the Atleti fans contemplated where this result left them, there came a response from the Chelsea supporters. "Jose Mourinho," they sang, before segueing into a now customary verse of "Champions of Europe, we've done it before." So has Mourinho. And he's now just two wins away from doing it again.
Watch the decisive Champions League semi-final second leg between Chelsea and Atletico Madrid live on Sky Sports 1HD from 7pm on 30th April