John Aldridge believes Liverpool still have much to do to win Premier League
John Aldridge has sounded a note of caution over Liverpool's chances of clinching the Premier League title.
Last Updated: 24/04/14 2:13pm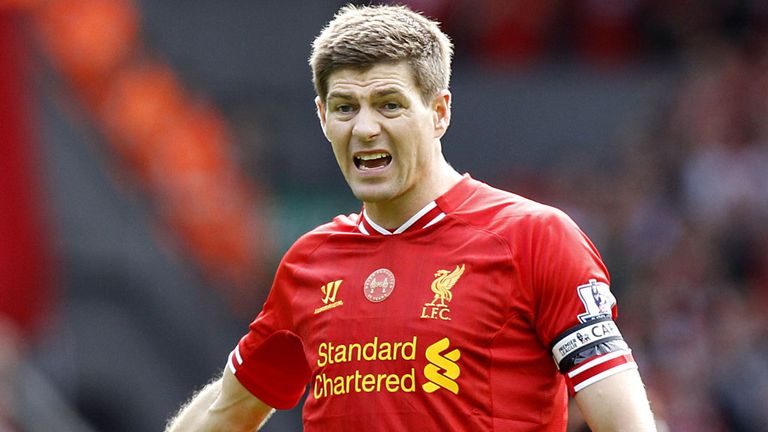 Liverpool head into Sunday's pivotal clash with injury-hit Chelsea with a five-point lead over Jose Mourinho's side, while Manchester City are a further point adrift having played a game less.
Many experts have predicted Liverpool will be impossible to catch if they emerge victorious at Anfield, but Aldridge insists there is still plenty of hard work ahead.
Aldridge was part of the Liverpool team that suffered a shock 2-0 defeat to Arsenal at Anfield in the last game of the 1988/89 season, when Michael Thomas snatched the title for the Gunners with virtually the last kick of the campaign.
"Everyone had said Arsenal had no chance whatsoever," he told Sky Sports News. "To win 2-0 at Anfield looked unlikely at the time, but we all know what happened.
"So I think that's a massive example, but the lads this season have got their feet on the floor and the attitude is fantastic.
"I've been watching football at Anfield for nearly 50 years, and I think this year is the best I've ever seen. When you're taking the top teams apart in the manner which they've done, it's been frighteningly good."
Aldridge believes captain Steven Gerrard has been the driving force for Liverpool this season, and his performances reminded the former Reds striker of the Anfield glory years.
"Gerrard has been just inspirational," he added. "I've known Steve for a long time and he's epitomised what Liverpool Football Club was all about in the 60s, 70s and 80s.
"He's been fantastic, and the role that Brendan Rodgers has picked for him has been a blessing in disguise because he's taken to it like a duck to water.
"He's like a manager on the pitch. What Brendan needs to get across, Steve's been doing it.
"That was underlined after the Manchester City game, when he told the players it wasn't all over and there was a lot of hard work to be done.
"Chelsea, even though they've got a couple of injuries, their squad is capable of beating anyone, so nothing's being taken for granted."
Mourinho has hinted he will played a largely second-string side this weekend as he rests key players for Wednesday's Champions League semi-final second leg against Atletico Madrid.
But Aldridge believes Liverpool are in the sort of form to beat any top team at home.
"I don't think Liverpool fear any side," he said. "They respect every team that comes to Anfield, but they will use a lot of pace and presence and direction.
"We've got the players to scare defences, and I think Chelsea have got to go there to score goals because Liverpool will score and they might have to score two or three to get a result.
"I'll be surprised if Mourinho does put a young, inexperienced side out. While you still have the opportunity to win the league, then you've got to go for it.
"He's got a massive semi-final game next week, but if he gets nine points in three league games then Chelsea can still win the Premier League. But whoever he plays, you need to treat them with the utmost respect.
"Liverpool will be much the same side. They may bring in Agger for Sakho, but I think Brendan will leave it. If Sturridge is not fit enough, then Lucas will probably come in.
"Unfortunately we've not got enough on the bench to come on and change a game, but the 11 players on the pitch can beat anyone as they've shown in the past.
"I think Liverpool will give Chelsea lots of respect, but I think they will have too much for them on the day. Even if Chelsea had their first team out I think Liverpool would have too much, and I'll think they will win by the odd goal."
Watch Liverpool take on Chelsea live from 2,00pm this Sunday on Sky Sports 1