Tony Cascarino expects Chelsea to be positive at Liverpool on Sunday
Tony Cascarino believes Chelsea must adopt a positive attitude when they go to Liverpool on Sunday.
Last Updated: 24/04/14 12:25pm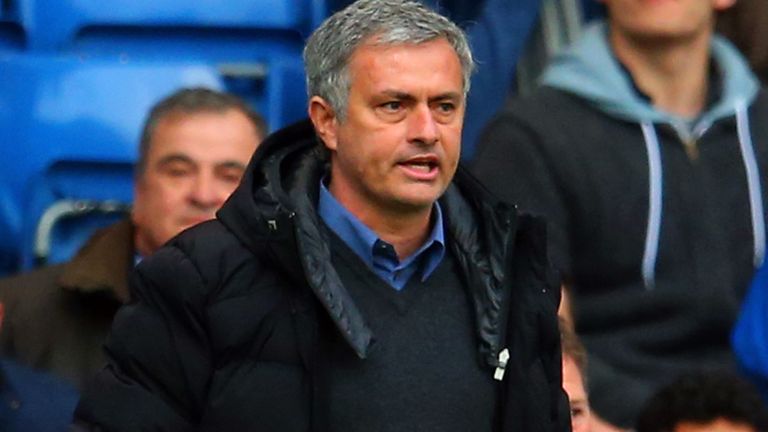 Blues boss Jose Mourinho is expected to rest several key players ahead of Wednesday's Champions League semi-final second leg against Atletico Madrid even though Chelsea are still challenging for the league title.
Former Chelsea striker Cascarino has predicted that several fringe players will be given a chance to shine, which could make Mourinho's side more of a threat at Anfield.
But he accepts Liverpool have been in outstanding form during an 11-match winning run that has swept them five points clear at the top of the table.
Cascarino told Sky Sports News: "I think Liverpool have sent a message out to the rest of the Premier League and they've scared everybody.
"Even the top sides have found it really difficult to handle the pace, and the entertainment has been sensational.
"They've had everything in their armoury to win football matches. They've been caught up in the euphoria of being in position to win a league that, for so long, they've not been a part of.
"It's all come together at the one time. They're a side that have just played brilliantly well, and the confidence must be absolutely brimming."
Chelsea will definitely be without Petr Cech and John Terry after they suffered injuries in Madrid on Tuesday, and Cascarino admitted losing two of their lynchpins is a huge blow.
"You always hate to lose your stand-out players that can make a difference and lead by example, and Petr Cech and John Terry are two great examples," he said.
"Chelsea have got a fantastic squad, but Terry is the real leader of the group. At least they have got players who can come in and do a fine job, players that haven't been given a chance before.
"I always say to beware of a second team, they can be really dangerous and players have a point to prove to the manager.
"They come in with hunger and desire to show the manager what they can do. It's also a game where Chelsea don't have to play like they did against Atletico Madrid. They can have a go at Liverpool.
"We know Liverpool's back four is not the best in the league, they certainly give you a chance. So I think Chelsea can go there and make it really difficult for them."
Cascarino expects to see the likes of Tomas Kalas, Andreas Christensen and Nathan Ake handed starts in defence at Anfield despite the potent threat of Luis Suarez and Daniel Sturridge.
"Kalas is a young full-back who's been given a couple of opportunities as a sub, and I think Matic might play in a centre-half role alongside Andreas Christensen, who is 18 years old but very highly rated," he said.
"Nathan Ake can play in a variety of positions, while a midfield of Mikel, Lampard, and Van Ginkel is a fantastic midfield.
"Moving onto the forward line of Salah, Schurrle and Ba, all have played Champions League football and all have played in big matches.
"The big question is which centre-forward Mourinho wants against Atletico Madrid. But I think Ba, with two pacemen either side of him, is the way he will go at Anfield."
Cascarino accepts that Mourinho faces a dilemma with his team still in the title race, but he agrees that the Champions League should be the main priority.
He added: "It's a difficult one for Jose Mourinho because the Champions League is now the priority, because they've got a bigger chance of winning.
"The league is out of his hands, but I think that's why he'll be ambitious at Anfield. But with what Liverpool have shown over the last few weeks, I'd be very surprised if they didn't win the game.
"I think it will be a great game, it will be entertaining, but I think Liverpool will outscore Chelsea."
Watch the huge clash live on Ford Super Sunday, coverage starts with Sunderland v Stoke at midday on Sky Sports 1