Premier League: Chelsea boss Jose Mourinho backs Hilario's claims
Chelsea boss Jose Mourinho has hinted he may throw third-choice Hilario into the fray at Anfield on Sunday.
Last Updated: 27/04/14 7:07am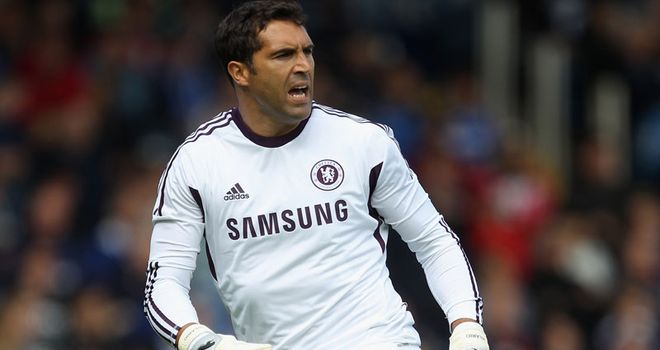 Mourinho suggested he is not prepared to risk Mark Schwarzer in Sunday's match as Petr Cech's dislocated shoulder means Schwarzer is Mourinho's No 1 for Wednesday's Champions League semi-final second leg with Atletico Madrid.
"When the goalkeeper comes and these kind of strikers go there to hit the goalkeeper and dive for the penalty, it's even more dangerous," Mourinho said.
"He's one of our two goalkeepers. We don't have another one. We have only Schwarzer and Hilario.
"Schwarzer knows everything about the goal, about the small box and when you are choosing a second goalkeeper you need to choose somebody that is specially mentally ready to play in any moment."
Hilario, who signed in 2006 during Mourinho's first spell at Chelsea, memorably made his debut in a 1-0 defeat of Barcelona in the Champions League group stages.
"I remember when Hilario played against Barcelona in the Champions League," Mourinho said.
"He went into goal and he has to answer. I think it's a good thing to have a second or third goalkeeper with experience; somebody that goes into the game, doesn't matter which game, and feels comfortable."