Premier League: Chelsea boss Jose Mourinho fined for comments following defeat to Sunderland
Jose Mourinho has been fined £10,000 for comments about match officials following Chelsea's shock defeat to Sunderland.
Last Updated: 08/05/14 7:21pm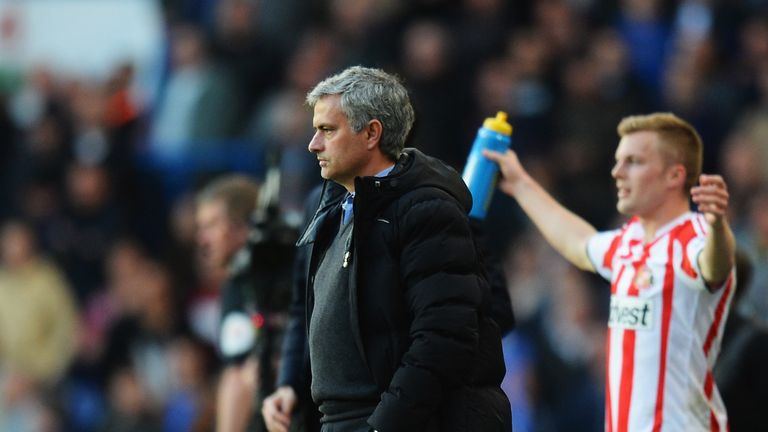 The Chelsea boss gave a sarcastic appraisal of Dean and Riley after his 78-match unbeaten record at Stamford Bridge was ended by a 2-1 defeat to Gus Poyet's strugglers on April 19.
Mourinho, who has also lost his appeal against the £8,000 fine for his conduct towards referee Chris Foy after defeat to Aston Villa in March, offered his "congratulations" to the officials he claimed were conspiring against his side in the Premier League title race.
He had contested a charge of misconduct issued by the Football Association, who have decided his post-match outburst warranted the fine.
Chelsea assistant coach Rui Faria was sent to the stands after a furious confrontation with match officials towards the end of a hot-tempered clash and was later given a six-match stadium ban by the FA.
Mourinho congratulated his Chelsea players and Sunderland before making a statement about the officials after refusing to take questions from the media.
He described Dean's performance as "unbelievable" and "fantastic", before moving on to Riley.
"What they are doing during the whole season is fantastic, especially in the last couple of months, especially in matches involving the teams that were in the title race, it's absolutely fantastic," he said.
The FA cleared Mourinho of questioning the integrity of the officials, but it was decided that his comments amounted to disrepute and improper conduct.
A FA statement read: "Following an independent regulatory commission hearing, Jose Mourinho has been fined £10,000 in relation to comments he made after Chelsea's game against Sunderland on April 19, 2014.
"While the commission did not find that Mourinho's post-match comments called into question the integrity of the referee appointed to the above fixture and/or the integrity of Mike Riley, general manager of the Professional Game Match Officials Limited, they did find that the comments brought the game into disrepute and the charge for improper conduct was found proven.
"Meanwhile, Mourinho has lost his appeal against an independent regulatory commission's decision to fine him £8,000 in relation to Chelsea's game against Aston Villa on on March 15, 2014.
"Mourinho denied a breach of FA Rule E3 in that his behaviour in re-entering the field of play and approaching the Match Referee in an attempt to speak to him, in or around the 90th minute of the game amounted to improper conduct.
"The charge was found proven by an independent regulatory commission and that decision was upheld by an appeal panel on Thursday."
Following the charges in relation to the Sunderland match, Mourinho suggested he was being victimised and that the FA had lost its sense of humour.
"Every time I speak there is a consequence," Mourinho said. "Even if I say that a referee was amazing that was a reason to be with a charge.
"I can't say the truth. I don't feel free at all. If you want a better press conference, speak with the FA."