Transfer news: Chris Powell says Liverpool or Manchester United should sign Ashley Cole
Former England left-back Chris Powell says Liverpool or Manchester United should sign Ashley Cole this summer.
By Dev Trehan
Last Updated: 21/05/14 10:59pm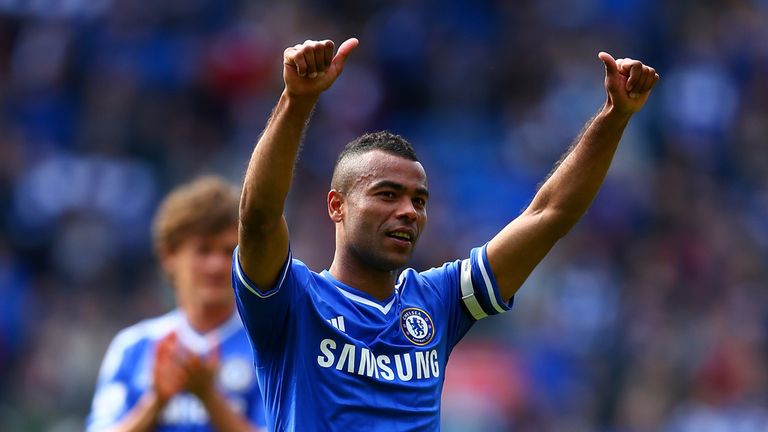 Cole looks set for the Stamford Bridge exit door when his contract expires after tweeting on Monday night that he was "weighing up his options".
But Powell insists the 33-year-old, who has won nine trophies during his eight-year spell with Chelsea, remains more than capable of playing at the highest level and believes he is England's finest ever left-back.
"Ashley has played at the top for his whole career, first at Arsenal and now at Chelsea," Powell told Sky Sports.
"There are rumours that they want a left-back at Liverpool and at Manchester United but whether they will go for experience or whether they will go for a younger player, we'll have to wait and see.
"But he could easily fit into those clubs no problem. He is absolutely capable of doing a job in the Premier League for the next two or three years.
"I think he will be a player much sought after and whoever gets him will be a very fortunate football club and a very lucky manager because they are going to have a very good player."
Cole was overlooked by Roy Hodgson for England's World Cup squad, prompting the former Arsenal defender to announce his international retirement after 107 appearances for his country.
But Powell, who was speaking during Kick It Out's 20th anniversary celebrations, believes Cole would have been a useful addition to the squad travelling to the showpiece tournament in Brazil this summer.
"I actually felt that Ashley should go because of his experience," he said. "I just felt that in this tournament, in the conditions that England will be playing in and the teams they will be playing against, you should have someone like Ashley.
"I would have taken him because he's fresh. He hasn't played much football this season so he would have been ideal, he wouldn't have been run down by playing all of those games.
"But that's why Roy is paid the money he is, that's why he is the England manager. He has to make those decisions and I'll support the 23 that are out there."
The former Charlton manager insists Cole must be regarded as one of the greatest left-backs to have ever pulled on an England shirt.
"He's been such an iconic left-back and he actually put me out of the England side so I'm actually very proud of him" Powell added.
"I think a lot of people used to question his defensive qualities but those epic battles that he's had with (Cristiano) Ronaldo through the years, he's proven that he's a top, top player.
"To get 100 caps is outstanding in itself because of the level you're playing at and the pressure you're under, and he's coped with that.
"He's been a phenomenal player. Some people will regard Kenny Sansom and Stuart Pearce as all-time greats at left-back but for me it's Ashley, all day long."