World Cup: Gary Cahill hoping to shine for England on global stage
Gary Cahill is hoping to follow in the footsteps of legendary centre-halves before him at this summer's World Cup.
Last Updated: 27/05/14 10:20am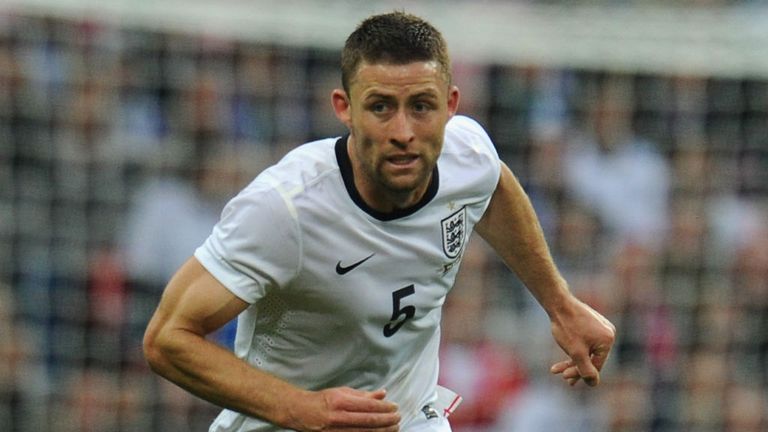 England have a proud history of producing commanding defenders who have become leaders of their country.
The likes of Billy Wright and Bobby Moore are iconic figures, while in more recent times Sol Campbell, Tony Adams, Rio Ferdinand and John Terry have all shone while donning the Three Lions armband.
Now it is time for a new generation to emerge, with Chelsea's Cahill at the heart of those plans.
He claims to be relishing that responsibility, with there a desire on his part to ensure that his name is also etched into English footballing folklore.
Cahill said in the Daily Mirror: "I see that I have to take up that mantle, and I embrace it.
"I've always seen those players, and I'd add Martin Keown as well, as ones I look up to. Martin, Sol, Rio and JT, all of them, they're players I respect as great central defenders.
"For me to be in their shoes now is great. As a kid you dream of going to a World Cup but you never think it's actually going to happen.
"Sometimes you have to pinch yourself and realise you're actually here, in the build-up to going to the World Cup. There's no better feeling than that.
"The first one I remember is 1998, Michael Owen's goal against Argentina in St Etienne. That's the one that stands out for me, the first one I can remember really. And now it's my turn."
Cahill believes he will be forming part of a squad this summer that is capable of challenging for global glory, despite manager Roy Hodgson having put his faith in an inexperienced group.
He added: "I've played in big games, like the Champions League final, but this will be different. Everyone who is English wants us to do well. Sometimes the pressure brings out the best in you.
"You get a kind of idea what it might be like, but the one thing you don't know about is that tournament environment.
"It's going to hit home when we're on that plane from Miami and flying in to Rio. Then we'll land and get the sense of how big the tournament is, the atmosphere, the fans and everything else.
"But it's up to us to make people recognise the talent we've got as a squad. That's how we feel.
"It's so open, with so many good teams there. In that respect it's like the latter stages of the Champions League, with so many good teams out there. If we went forward, would it surprise you? No. If Brazil did, would that surprise you? No.
"A lot of teams could go a long way and it wouldn't surprise you, and we're certainly in that category."