Chelsea Ladies boss Emma Hayes hopes Clermont Foot manager Corinne Diacre given time
By Dev Trehan
Last Updated: 04/08/14 4:28pm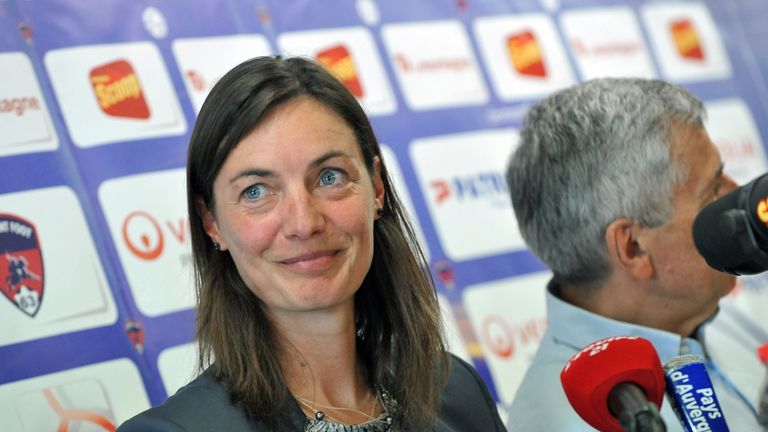 Chelsea Ladies boss Emma Hayes hopes Clermont Foot manager Corinne Diacre is given the time and the resources to introduce her brand of football at the club.
Diacre will become the first woman to manage a men's team in the top two flights of a European league when she takes her Clermont Foot side to Brest in Ligue 2 on Monday night.
And Hayes - currently the only female manager in the FA Women's Super League - wants Diacre to be given a fair opportunity to implement her football philosophy.
"From the outside looking in, I wonder how much input she has had in the selection of the players," Hayes told Sky Sports.
"If she has a certain playing style and has players that don't fit, that then how much time is she going to be given?
From the outside looking in, I wonder how much input she (Diacre) has had in the selection of the players.
Emma Hayes
"If it's a case of instantly getting results, she might have to abandon her own principles to achieve that. So is she going to be given time? Is she going to be given the resources to recruit the players she needs to articulate that vision?
"If I was in that position, then things would have to be clear to me otherwise you are just setting yourself up to fail. So let's hope she's given the right time and resources and there is a positive experience with it because if there is, then I think it will create other opportunities for more women."
Former France captain Diacre was installed as Clermont's manager last month, replacing former Celtic coach Helena Costa who left her post after just seven weeks.
And Hayes, whose Chelsea side visit defending champions Liverpool Ladies in a top- of-the-table FAWSL clash this weekend, questioned the motive behind Diacre's appointment.
"Of course (it is a brave appointment for Clermont) and you would hope they would want to hire the best coach," said the 37-year-old.
"For me, the only criticism I would have is that they have gone from one female coach to the next. How much of that is a legitimate attempt to hire the best coach or how much is it an attempt to hire a female, we won't know.
"The club know their true intentions and it is up to her to stamp her authority and get what she needs to put the team in the best place.
"If not, then we'll soon know how honest Clermont's intentions were or whether or not this was a publicity stunt."
The former Chicago Red Stars head coach added: "She has been an accomplished player for France and I think the players will respect that.
"I will be looking out with eager eyes and hope to see her doing well."