Premier League: Jose Mourinho thanks Thibaut Courtois after 'slow' Chelsea start v Leicester
Last Updated: 24/08/14 8:37am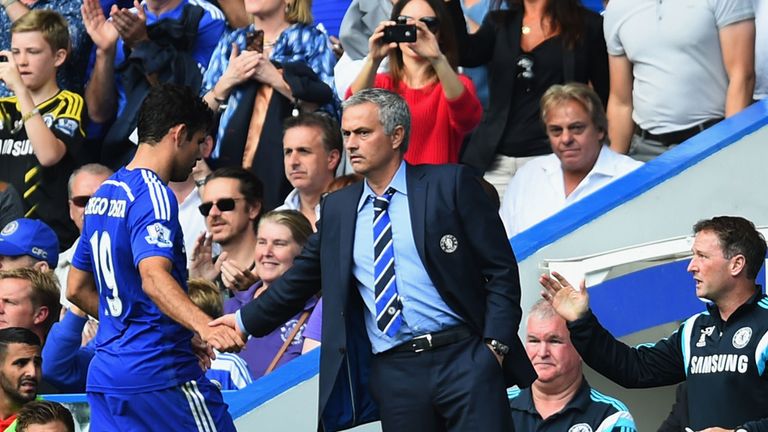 Jose Mourinho admitted Chelsea were "slow" in the first half against Leicester and praised Thibaut Courtois' alertness.
Chelsea are top of the early Premier League table after two games played, having followed up Monday's 3-1 win at Burnley with a 2-0 triumph over Nigel Pearson's Foxes at Stamford Bridge on Saturday.
After a goalless first half, Diego Costa (63) and Eden Hazard (77) netted for the Blues to deliver back-to-back victories at the start of the new campaign.
Chelsea manager Mourinho admitted a change in attitude sparked a much-improved Chelsea display after the interval, even though his side had a scare when Courtois - now installed as first choice ahead of Petr Cech - had to save one-on-one from David Nugent.
"We didn't play well first half," Mourinho told Sky Sports. "Leicester showed great defensive intensity, and came with fast transitions, trying to scare us on the counter-attack.
"We were a bit slow - slow moving the ball, slow thinking - and we needed to change. Sometimes you don't need to change players, just your attitude towards the game. And we did that.
"So the second half was completely under control. However, I don't forget that they had a good chance with the score at 0-0 - a critical moment in the game - but we had so many chances, so much good football, so many occasions to score. I think, obviously, we deserved the victory."
On the subject of that Courtois save, Mourinho added: "That's what Petr did so many times in this club year after year, so it's nothing new for us.
"It's important at a big club to have the kind of goalkeeper who's almost sleeping during the match, and suddenly in the right moment he says 'yes, I'm here'.
"Thibaut did this, the same way Petr did so many times for us."
Costa has begun his Chelsea career in impressive goalscoring form, and Mourinho expects the Spain striker to get even better.
"He's a striker, and strikers live on goals," continued the Blues boss. "He can play better than he did today, the same as us as a team, but he scored - and at a critical moment.
"We were getting stronger and more intense, and Leicester were looking in trouble, but it's important that you have a striker that goes there and puts the ball in the net."
Costa was replaced in the 80th minute by club legend Didier Drogba, resulting in a standing ovation at the Bridge.
"For me, to work with him (Drogba) again is emotional - whether playing or scoring, it doesn't matter," added Mourinho. "Just having him back and having the pleasure and the honour to work with him is enough.
"The reality is he helps the team a lot. Today if the score is not 1-0, 2-0, I would have put him together with Diego. And I'm sure Didier will get his form, step by step."