Transfer news: Chelsea confirm agreement with AC Milan for two-year Fernando Torres loan
Last Updated: 30/08/14 8:08am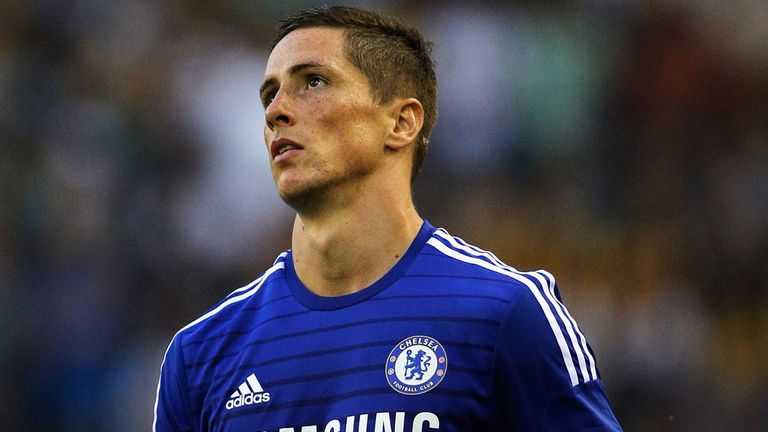 Chelsea striker Fernando Torres will have a medical at AC Milan on Saturday ahead of an agreed two-year loan deal.
Chelsea boss Jose Mourinho had previously claimed he wanted to keep the Spain international to ensure he had three striking options in his squad.
Torres, 30, has struggled badly in three-and-a-half seasons at Stamford Bridge, scoring only 20 goals in 110 Premier League appearances following his record-breaking £50million move from Liverpool in January 2011.
Chelsea Football Club and AC Milan have agreed terms for the two-year loan deal of Fernando Torres to the Italian club. The move is now subject to Fernando agreeing personal terms with AC Milan and passing a medical examination.
Chelsea statement
Mourinho did confirm earlier on Friday that one of his foreign players would have to be sold to meet Premier League regulations, but he refused at the time to reveal any further details.
He said he had not spoken to Torres about his desire for a new challenge, but admitted Chelsea could move quickly if Torres, who has two years left on his contract, wanted to leave the club.
The loan deal between Chelsea and Milan was confirmed on Friday night and is dependent on personal terms being agreed and the medical being passed.
"What we have clear is that we need three strikers to face the season," Mourinho said earlier on Friday. "He (Torres) is one of them.
"I like him as a person. I like him as a player. If he wants to leave, it is something he didn't say to me. At the moment, he is our player, nothing more than that.
"If he wants to leave, in the case he wants to, it's because he wants to try a new life, a new club, probably a new league.
"So if he wants to leave, which until this moment I have not one single word about, I believe that is to try to be happier than he was in the last couple of years.
"This is a very human club in the way the club approaches this kind of situation. If he comes to us in these last couple of days, any possibility would be analysed by us as a club and the best decision for him."