Liverpool's set-piece problem exposed in 3-3 draw with Watford
By Nick Wright
Last Updated: 12/08/17 5:15pm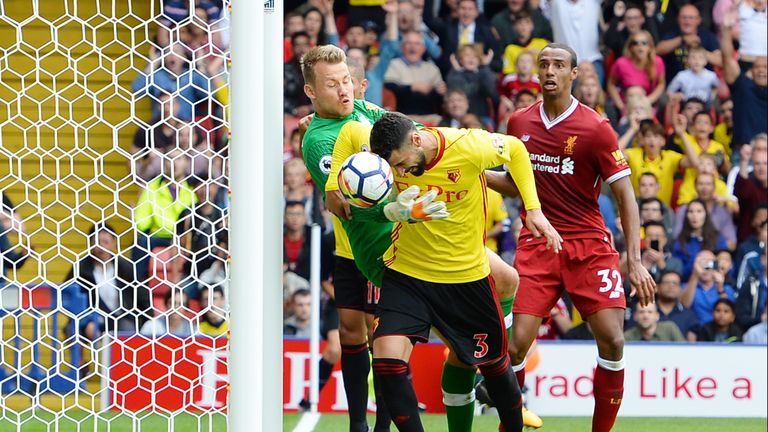 Liverpool's set-piece problem was exposed as they were held to a 3-3 draw by Watford in their Premier League opener at Vicarage Road.
Stefan Okaka was allowed to rise unmarked to head home Jose Holebas' corner from four yards out for the opening goal, and Liverpool were undone by another corner for Manuel Britos' dramatic equaliser in injury time.
The goals underlined a long-standing issues for the Reds. Liverpool have now conceded 44 goals from set pieces since the start of the 2014/15 season, the joint-most of any Premier League side. In total, 31 per cent of the goals they have conceded in that time have come from set plays.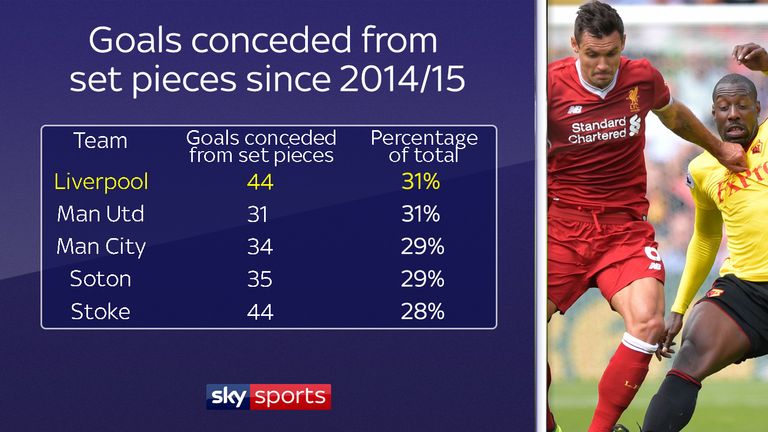 For the first goal, Okaka exploited the space in their zonal marking system, eluding Roberto Firmino at the near post to power his header past Simon Mignolet. It prompted plenty of debate from Sky Sports pundits Jamie Carragher and Jamie Redknapp.
"Liverpool are awful at zonal marking," said Carragher. "Why Firmino is the central man I'll never know. It's the most dangerous position from a set piece, and you've got your centre forward there - who is around 5ft 10ins - against Okaka, the biggest unit who is going to knock him out of the way."
Carragher, who described Liverpool as a "shambles", added: "That first half was like Liverpool at their worst last season. They have had a pre-season and nothing has changed. What are they working on? What are they looking at?"
There were more issues for the leveller, with Georginio Wijnaldum failing to head clear at the near post, allowing Watford to fire the ball across goal, where Mignolet was beaten by Britos.
Redknapp felt it heightened the need to recruit a centre-back like Southampton's Virgil van Dijk. "I look at that Liverpool back four and there's a reason they conceded so many goals," he said. "They are disorganised and they have no leaders at the back. Who wanted to head that ball there? Only Watford players."
Carragher, however, insisted the zonal marking system was the bigger issue. "On set pieces it's not about the defenders," he said. "The way Liverpool are set up - set piece wise - they will always concede goals. It doesn't matter which defenders they buy or how much they cost - it won't make a difference.
"On average Liverpool conceded around 50 goals a season," Carragher added. "If you want to win the Premier League, you've got to be conceding 30-35 goals. So Liverpool need to take 15 goals away."
The evidence suggests sorting out the set pieces should be a priority.