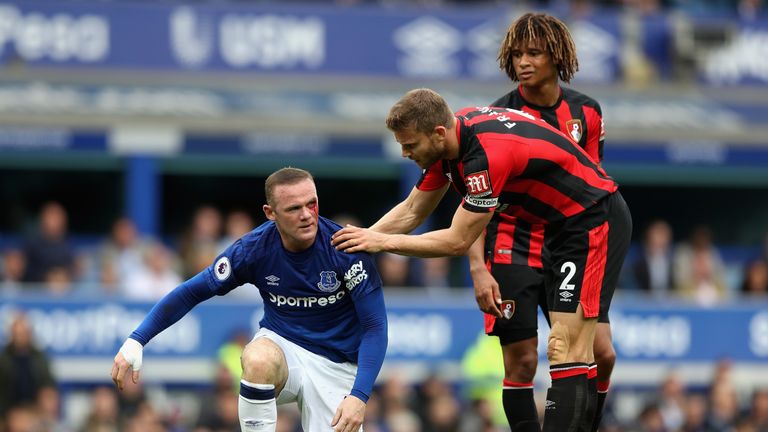 Should Simon Francis have seen red for catching Wayne Rooney with an elbow? Dermot Gallagher has his say in this week's Ref Watch.
Also up for discussion is Tomer Hemed's 'stamp' on DeAndre Yedlin and Manchester United manager Jose Mourinho being sent to the stands against Southampton at St Mary's.
Leicester's penalty against Liverpool also features as does the question of whether Marcos Alonso should have been sent off against Stoke.
Read on to see Dermot's verdict on the weekend's biggest incidents and if they were handled properly by the officials...
INCIDENT: Simon Francis and Wayne Rooney go up for a challenge in the box, with the Bournemouth defender catching the Everton striker in the face with his elbow, giving Rooney a nasty cut on his face. Rooney is furious in the aftermath but Francis does not receive a yellow card.
DERMOT'S VERDICT: Correct decision.
DERMOT SAYS: I can understand 100 per cent why Rooney is upset because of the nature of the injury sustained. But if you look, both players have their arms raised and when you jump, you jump with your arms up.
Francis didn't bash his elbow back, he didn't seek Rooney out and he didn't smash him in the face. He caught him accidentally and I think the referee got that absolutely right.
INCIDENT: DeAndre Yedlin goes to ground as he tries to tackle Tomer Hemed with the Brighton forward then appearing to stamp on the calf of the Newcastle midfielder as he goes to step over him. The FA is gathering evidence over whether it was a deliberate action.
DERMOT'S VERDICT: For an FA panel to determine.
DERMOT SAYS: He's trodden on him, he hasn't stamped on him. You see in the first instance when he slides in, my first reaction is 'where can he put his foot? he's got nowhere to go'. Then you see the image from behind and he's stopped, then he chooses to bring his foot down on him. I think that will go before the three-man panel and they have to decide how deliberate it was.
I think the problem with this is only he knows what he meant to do. I saw the first image and thought 'he bought his foot down, he had nowhere to go' but then you watch the one from behind and it looks a lot naughtier than the first one. I think it's at this point that the panel has to decide how much intent was in it.
INCIDENT: With United 1-0 up in the last minute of stoppage time, Jose Mourinho stepped one foot onto the pitch while urging his team back to defend. Fourth official Mike Jones pulled Mourinho back behind the line, before calling over referee Craig Pawson.
He then sent Mourinho to the stands, but the United boss did not complain, instead going out of his way to shake hands with several members of the Southampton coaching staff.
DERMOT'S VERDICT: Correct decision but no further action needed.
DERMOT SAYS: Jones alerted Pawson to the incident, and said that Mourinho had encroached on the pitch. When you see the footage and pictures I've seen in the papers, he is slightly on the field. We don't know what has happened in the technical area before that. The fourth official may have warned him a few times, but we can only go on the pictures we see.
The FA have taken the line that is was only a minor infringement and he's been told that's all for the day and it won't go any further. The fourth official may have said in his report that it was only for going onto the pitch at that time and not for anything that has come before, which we would have no knowledge of. Sometimes it's tough being a fourth official or being a manager with a fourth official.
INCIDENT: Jamie Vardy is racing towards the box to get onto the end of a pass, but Simon Mignolet takes a touch of the ball first before clattering into a challenge on the Leicester striker. Referee Anthony Taylor points to the spot and awards the Foxes a penalty, which Mignolet eventually saves from Vardy.
DERMOT'S VERDICT: Correct decision.
DERMOT SAYS: He did touch the ball, there's no doubt about that but what you would say is that Vardy is still able to get to that ball and he has taken him out quite clearly to stop Vardy going through. There's no red card because Vardy still has to control the ball and go through and there were two Liverpool players covering behind.
INCIDENT: Marcos Alonso commits two fouls in quick succession, although only gets booked for one challenge. The yellow card comes as he commits a foul on Joe Allen before appearing to clip Mame Biram Diouf not long after although he escapes a booking for the second incident.
DERMOT'S VERDICT: Correct decision for both incidents.
DERMOT SAYS: The first is a lunging tackle. It comes back to what I've said many, many times before, the ball runs away and the referee has to be alert because a player will rush in on a tackle and not get the ball. For Alonso, the first one is a yellow card.
I feel sorry for him with the second one. You can clearly see he is going for the ball, there's no doubt about that, but because Diouf is quicker, he has caught him. It is a foul and it's an opportunity for the referee to come across - like Michael Oliver did at West Ham - bring the captain in and say 'we understand it's a foul and he's gone for the ball but that's it. That's the final line.'