Dalglish happy with headache
Liverpool boss Kenny Dalglish has welcomed his selection options at full-back ahead of facing Chelsea on Sunday.
Last Updated: 17/11/11 1:48pm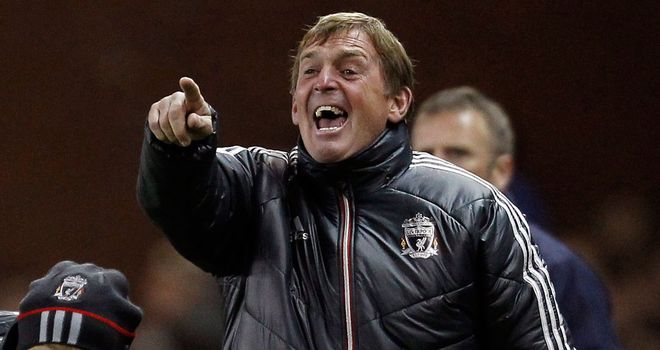 Liverpool boss Kenny Dalglish has welcomed his selection options at full-back as Glen Johnson, Martin Kelly and John Flanagan all compete for a place.
The Reds manager has a choice to make ahead of Sunday afternoon's match at Chelsea, but he is pleased to have a variety of possibilities.
Having overcome his early season injury problems, Johnson has started each of Liverpool's last three Premier League matches and was in England's first XI against Spain last weekend.
But, at the same time, England Under 21 international Kelly, who scored in U21s' recent win over Iceland and defeat to Belgium, is showing his ability.
Flanagan played a prominent role at the end of last season, when both Johnson and Kelly were injured, and the 18-year-old is also in Dalglish's plans.
"Glen's biggest challenge this year was getting fit and once he got himself fit, he came in and has been excellent for us," said the Scot at his pre-Chelsea press conference.
"Everybody knows he is a really good footballer. The fact he's got a challenger for the position here and for England won't do him any harm whatsoever.
Versatility
"In the two games, if it hadn't been for Luis (Suarez) scoring four, Martin would have been top goalscorer for our international players with two goals.
"He was playing centre-back, which is where he started, and that's great for us to have seen him there and great for Martin to get a little bit of versatility.
"The two goals won't do him any harm whatsoever. Jordan (Henderson) made the two of them, so that's great for us as well.
"I don't think Martin played again last year after he got the injury at West Ham (in February). We did a lot of prevention work with him and I think both ourselves and Martin are getting the benefit of that now.
"When he was out, Flanno came in and did a fantastic job for us.
"We're quite fortunate we're quite strong in that full-back position and we've got the England international playing there at the moment.
"It's tough competition for everybody, but that's the way we want it to be and why we want a strong squad to be able to compete."